This delicious buckwheat loaf cake is made with 100% buckwheat flour AND only contains one tablespoon of added sweetener!
Hello, bloggy
Ah, it's nice to be here.
The past week has been a dramatic one, with semi-major health issues abounding, and it's definitely had me in a tizzy.
I feel like I haven't checked in here for days, so I'm sorry if you left a comment and received a late reply! I always appreciate your feedback, especially if you've tried a recipe.
Admittedly, I don't make recipes for my readers. I began this blog that way, but soon found that if I was creating something due to a reader request, my heart wasn't in it, and I really wasn't as proud of it.
I decided I wanted this blog to be sort of a virtual cookbook, if you will, where my kids could look back when they're older, where my husband and I could reference our favorite dishes, and where I would (hopefully) garner a following of like-minded noshers.
I've really fallen into a groove of how I picture myself eating for the rest of my life, so if you've stuck with me this long, prepare your britches for more low sugar goodness!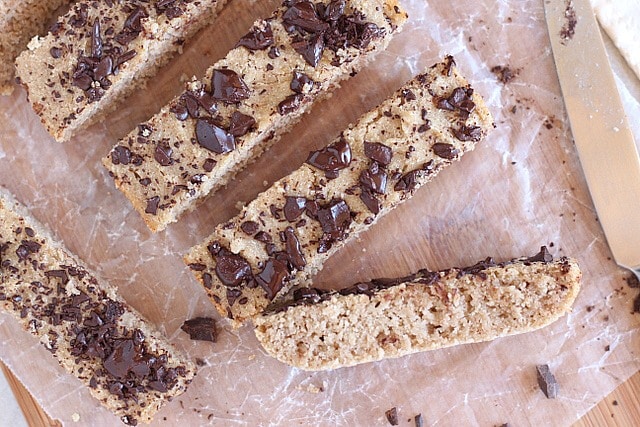 Buckwheat cake
Today's recipe is reflective of just that.
It's liked by all the kids (especially Jadie), and it makes a good treat for lunch boxes.
The combination of ingredients is pretty simple, and it employs only buckwheat flour. It has a nice density, as opposed to being fluffy, that gives it an almost 'gooey' texture, hence the title.
As with so many treats, this typically gets topped with some chopped chocolate, but it could easily handle dried fruit, nuts, or seeds, if you wish. A cinnamon raisin variation would be good!
Enjoy it with a cup of pau d'arco tea to keep the winter sicknesses at bay!
Print Recipe
Gooey Buckwheat Loaf Cake
This lower sugar cake is made with 100% buckwheat flour and only one tablespoon of added sweetener!

Ingredients
½

cup

buckwheat flour

ground from raw groats; see Notes

1

tsp

baking powder

¼

tsp

sea salt

½

cup

applesauce

2

Tbsp

olive or grapeseed oil

1

Tbsp

maple syrup

1

tsp

vanilla extract

3

Tbsp

chopped chocolate or chocolate chips
Instructions
Preheat the oven to 350 degrees.


In a medium bowl, mix the flour, baking powder, and salt.


Stir in the applesauce, oil, syrup, and vanilla.


Oil a standard size loaf pan.


Pour the batter into the pan and top with the chocolate.


Bake 15-20 minutes or until the top is springy to the touch. Don't overbake!


Cool, slice, and enjoy!

Notes
Nutrition facts based on using grapeseed oil. WW SmartPoints: 4
Nutrition
Sugar:
5.3
g
|
Fiber:
1.1
g
|
Calories:
92
kcal
|
Fat:
4.8
g
|
Protein:
1.3
g
|
Carbohydrates:
11.4
g
Notes:
I wouldn't use coconut oil for this recipe. If the bread sits in the fridge, it takes on a more solid form, since coconut oil hardens when cold.
I like to add in a good amount of cinnamon for extra flavor!
These are some of the items I use in this recipe, including the raw buckwheat groats:
Recipe Steps:
Mixing the dry ingredients...
Mixing the batter...
Oil/butter a loaf pan...
Pour in the batter...
Chocolate on top!