These delicious low sugar chocolate chip cookies are made with oats and pumpkin seeds, making them a great nut-free alternative for those with allergies!
'Tis the season for cookies!
We decorated our tree this weekend. Marshmallow-stuffed hot chocolate and smooth crooner Gene Autry completed the scene. It was a genuinely fun day, etching a memory on my heart.
♥♥♥
I've been sitting on this recipe for months now, waiting for the right time to share it. It's pretty special, I think, as it's tough to get a cookie that's 'free' of so many ingredients.
Gluten-free, egg-free, dairy-free, nut-free...the only tic I'm missing is 'grain-free', and if that's what you desire, you might try this popular recipe.
I didn't set out for this to be so 'allergy-friendly', but it happened, and I'm glad. Glad because I can safely give these to my whole family, whose array of allergies I'm constantly competing with.
I'm also happy that these cookies are lower in sugar. I find the combination of coconut sugar and stevia more than adequate, particularly with the addition of chocolate.
I like to use a combination of sweetened and unsweetened chocolate to lower the sugar grams even more, though if you're still 'retraining' your sweet tooth, you may want to use all sweetened.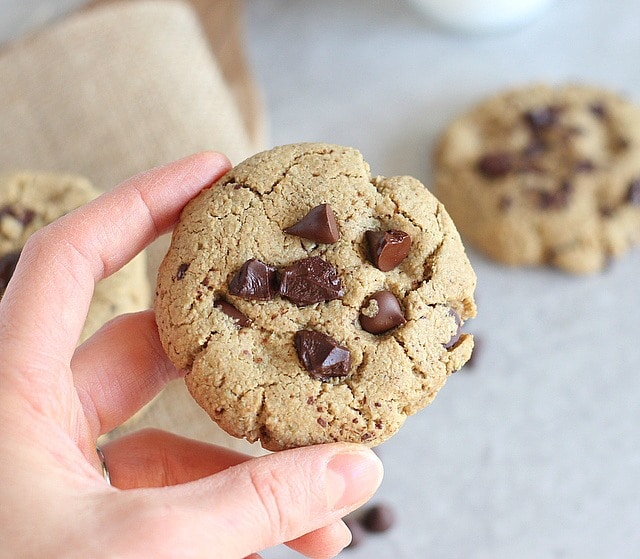 Pumpkin seed flour in cookies
In lieu of the popular almond meal or flour found in many keto and paleo cookie recipes, I've employed one of my favorite seeds instead.
Pumpkin seeds, ground in a food processor or Nutribullet, make a great replacement for the above. I also enjoy that the seeds add good amounts of zinc and protein to the recipe (pumpkin seeds are one of the top sources of plant-based protein).
Recipe Steps
Mix the dry ingredients...
Semi-solid coconut oil...
Whisking the oil and sugar...
The batter...
Forming the cookies...
Pre-bake...
Be sure to let these cookies sit for a bit after coming out of the oven. Because there isn't a common binder like gluten or eggs, these are a bit more fragile when eaten.
The kids ate up my whole batch in one afternoon, prompting Jade to inquire, 'mommy, why didn't you make more??'. A good sign, I'd wager!
Print Recipe
The Best Low Sugar Chocolate Chip Cookies (Nut-Free, GF, Vegan)
These allergy-friendly cookies are made with oat and pumpkin seed flours, and they're lower in sugar thanks to a combination of stevia and coconut sugar.

Ingredients
1 ½

cups

oat flour

½

cup

pumpkin seed flour

see Notes for how to make this

½

tsp

baking powder

½

tsp

baking soda

½

tsp

sea salt

¼

cup

semi-solid coconut oil

see Recipe Steps for a picture

¼

cup

coconut sugar

2

tsp

vanilla extract

2

Tbsp

applesauce

2

Tbsp

milk of your choice

15-20

drops

liquid stevia

¼

cup

chopped chocolate or chocolate chips

(use all or part unsweetened chocolate for lower sugar!)
Instructions
Preheat the oven to 350 degrees.


Begin with room temperature ingredients, as coconut oil clumps when cold.


Mix the dry ingredients in a large bowl (flours, baking powder, baking soda, and salt).


In a separate smaller bowl, whisk together the oil and sugar until well combined.


Then, whisk in the vanilla, applesauce, milk, and stevia.


Add the oil/sugar mixture, as well as the chocolate to the dry mix and stir until all dry ingredients are moistened.


Because these are lower in sugar, they won't spread, so you have to form the cookies with your hands.


Place them onto a parchment paper-lined baking sheet and bake for 8-10 minutes, or until golden.


Once the cookies come out, press down on the tops a bit to deflate some of the air. This helps with overall texture.


Let them sit for about 10 minutes to help them hold their shape.
Notes
Nutrition facts are based on using almond flour in lieu of pumpkin seed flour, as the latter was not available on the nutrition calculator I use, unsweetened almond milk, and two tablespoons of unsweetened chocolate plus two tablespoons of chocolate chips, which is what I use.
WW SmartPoints: 6
Nutrition
Sugar:
5.4
g
|
Fiber:
2
g
|
Calories:
146
kcal
|
Fat:
8.9
g
|
Protein:
2.8
g
|
Carbohydrates:
14.8
g
Notes
I use raw, unsalted pumpkin seeds and grind them in a Nutribullet using the flat blade. You want the seeds to resemble flour in appearance, but be careful not to process them too long or they'll begin to 'butterize'.
The coconut oil should be in a soft state, not liquid, but not hard. See picture below.