Healthy Mint Chocolate Bon-Bons - A creamy, delicious bite of chocolate-covered minty 'ice cream'. Vegan, gluten-free, and nut-free!
Top o' the mornin' to ya!
I actually do have a bit of Irish blood running through my veins, though admittedly, not much.
An aunt on my dad's side is really into genealogy, so I have a good idea of what my ancestry is.
My mom is also pretty well-versed about her family.
Summing it up, I'm half Czech, one-quarter German, one-eighth Welsh, and one-eighth Irish.
If being Irish means loving mint, however, I'm shocked I'm not full-blooded!
As a kid, the best part of an Olive Garden meal meant the Andes mint afterward.
As a teen, my favorite candies to eat at movies were Junior Mints.
Now, as an adult, I find myself craving any one of these treats on a regular basis. They're just so darn refreshing!
I have more than a few recipes pairing the two flavors, but let's go ahead and add another in honor of upcoming Saint Patrick's Day!
I was originally trying for a nut-free Peppermint Patty, but that goal quickly morphed into ice cream after one bite!
These truly taste like bon-bons. If you're unfamiliar, a bon-bon is basically just a small bite of ice cream covered in chocolate.
Heaven!
In the spirit of total honesty, I will tell you that if you don't like hemp seeds, you may not like these.
When I had my husband taste the filling alone, he wasn't a fan.
Covered in chocolate, however, they've now become one of his favorite treats.
One night he even asked if he could eat the entire lot!
I politely informed him that he was lucky to get one, much less my entire, hard-earned batch. (I don't share well, especially chocolate.)
Despite three out of five family members' distaste for hemp, all five of us absolutely loved these bon-bons!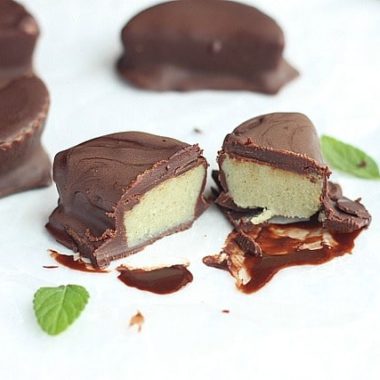 Print Recipe
Healthy Mint Chocolate Bon-Bons (Nut-Free)
Creamy, nut-free mint chocolate bon-bons made from hemp seeds, coconut oil, and maple syrup!

Ingredients
ICE CREAM FILLING:
½

c

. hemp seeds

½

c

. melted coconut oil

2

T

. water

1-2

T

. honey or maple syrup

(see Notes)

1

t

. peppermint extract

½

t

. vanilla extract

dash sea salt

stevia

, if desired (see Notes)
CHOCOLATE COATING:
⅔

c

. melted coconut oil

½

c

. cocoa powder

2

T

. maple syrup

dash sea salt

1

t

. vanilla extract
Instructions
Blend or process the ingredients for the filling until super smooth (about 20-30 seconds).

Pour the filling into some type of candy mold or silicone muffin cup (see Notes).

Freeze the filling until it's solid.

Mix the ingredients together for the chocolate coating.

Coat the 'ice cream' filling until covered.

Place the bon-bons on a wax paper-lined tray.

Freeze until chocolate is solid.

Coat again, if desired.

Freeze again.

Enjoy!

Store in freezer for best results.
Notes
Fat: 19 g  Carbs: 5.2 g  Sugar: 3.1 g  Protein: 1.1 g; Nutrition facts are based on using one tablespoon of honey in the filling. WW SmartPoints: 10
Nutrition
Notes:
Adapted from Oh She Glows
For the filling, I like to use a combination of honey and stevia for sweetness. I typically use one heaped tablespoon of raw honey and a few dashes of this stevia extract.
You WON'T need all of the chocolate mixture, but the nutritional facts take the entire recipe into account. I just pour the remaining chocolate into silicone muffin cups and freeze to eat as dark chocolate.
I use these silicone muffin cups for this recipe.
I cut the frozen muffin cup in half, to make half moon-shaped bon-bons (see below).