This easy and economical herb and vegetable brown rice dish makes a great side to chicken or fish, and it includes ingredients that are both easy to find and inexpensive!
My health has taken a bit of a nosedive recently.
It started a few months back with my ears and has quickly progressed into other issues.
It can be very frustrating to have to deal with what I presume are allergy or candida-related problems, as I try so, SO hard to control both with my diet.
Prior to this, I was at a good place. So good, in fact, that I was trying to add dates and pasta back into my life. I don't know what it is with dates, but they seem to consistently reignite my candida.
I've discovered as well that I can't eat white rice or pasta very often. I think the high carb content of both causes me trouble, so I'll be avoiding them for a time.
I'm actually embarking on a rather drastic method of healing this weekend...I'll be doing a veggie fast!
I recently went for a vitamin C IV to help correct some of my many maladies, and the naturopath suggested fasting as a way to 'starve' out toxins. Having never done a fast, I was a tad anxious about it.
That was Tuesday afternoon, and after thinking on it all week, I've decided to give it a go!
I'll be eating nothing but broth or pureed vegetable soups all weekend to 'clean' myself out. Aren't you jealous?
I'm hoping that this will give me the jump-start I need to get through whatever else is plaguing me.
I'm writing this post on Thursday afternoon, which will be my last day of eating before the fast, and tonight, the hubs and I will be dining on wild salmon and this rice dish. The kids will have rice with burgers, and I'll make another side veggie to go with the meal(s).
Brown rice is one carb I won't be letting go of! It really does my body well, and I love finding new ways to prepare it.
This simple recipe is made in the Instant Pot with common grocery store ingredients, and it pairs well with various mains, including both fish and chicken.
As with everything, I hope you like it if you try it!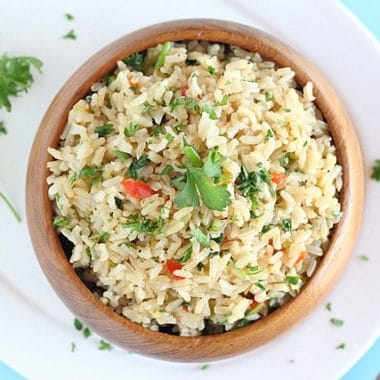 Print Recipe
Instant Pot Herb and Vegetable Brown Rice
This easy and economical herb and vegetable brown rice dish makes a great side to chicken or fish, and it includes ingredients that are both easy to find and inexpensive!
Ingredients
1 1/2

Tbsp

olive oil

1

cup

yellow onion

chopped

4

garlic cloves

minced

1/2

cup

red bell pepper

chopped

1/2

cup

celery

chopped

1/4 + 1/8

tsp

dried oregano

1 1/2

cup

long grain brown rice

1 3/4

cup

water

1/2

cup

fresh parsley

minced
Instructions
Hit 'saute' on the Instant Pot.


Add in the oil, onion, garlic, bell pepper, and celery, along with a good sprinkle of sea salt.


Briefly saute the veggies for 30-60 seconds, just to bring out the flavor. You don't want to overcook the veggies, otherwise they will become mushy in the pressure cooker.


Stir in the oregano, rice, and water.


Hit 'cancel' to stop sauteing.


Close and lock the lid, making sure the steam release valve is set to 'sealing'.


Press 'manual' and set the time to 22 minutes. No need to press any other button, it will just take a few minutes to come to pressure and begin cooking.


After 22 minutes, let the Instant Pot naturally release pressure for 10 minutes (in other words, don't touch it until the screen reads LO10).


Open the lid, add in the parsley, and fluff the rice.


Season to taste and enjoy!

Nutrition
Sugar:
1.5
g
|
Fiber:
2.5
g
|
Calories:
219
kcal
|
Fat:
4.9
g
|
Protein:
4.2
g
|
Carbohydrates:
40
g
Some of the items I use in this recipe include:
Some recipe steps:
Adding the veggies to the Instant Pot...
Plus rice...