Coconut, peanut butter, and vanilla all combine to make these delicious Butterfinger fat bombs which taste like my favorite candy bar!
What on earth is a 'fat bomb'?
'Fat bombs' are the latest health craze to hit the Internet, namely the keto diet.
They're basically a mix of a high fat food, like avocados or coconut oil, mixed with a lower carb texture ingredient, like seeds or, in this case, grated coconut.
As far as diets go, I've learned over the years, I'm a very 'middle of the road' eater.
I can't have too much of anything or I develop some symptom...too many carbs, I have blood sugar/candida issues. Too much animal protein, my gut ceases its regularity, if you knowwhatimsayin'...too much fat, I have digestion trouble and seem to gain fat!
Though I don't follow keto or any other diet, I do enjoy a good fat bomb once in a while!
Do these really taste like Butterfingers?...
So, let me give you the story, short and sweet.
I found this coconut snowball recipe, which I wanted to make sugar-free. I also happened to have a hankering for peanut butter the same day, so BOOM! Butterfinger fat bombs were born!
The combination of coconut, peanut butter, and vanilla powder really triggers the memory of my absolute favorite candy bar, and the added coconut shreds act as the 'crunch' factor.
I like to use a combination of stevia and a small amount of coconut syrup to sweeten these. I'm finding coconut syrup is agreeing with me well right now, so I'm sticking with it! If you don't have coconut syrup, maple would also work.
I like to drizzle these with a bit of chocolate for the full Butterfinger effect, but they are good without it as well.
In lieu of the store-bought version, give these lower sugar, low carb treats a go this Halloween! Let me know what YOU think.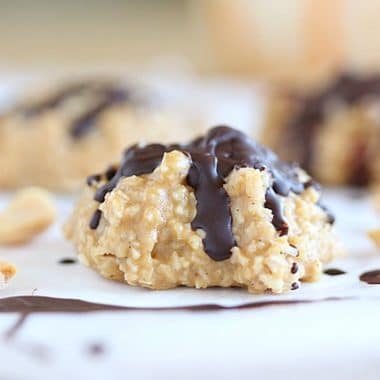 Print Recipe
Butterfinger Fat Bombs
A low sugar, low carb way to enjoy the best candy bar on earth!

Ingredients
BUTTERFINGER:
¼

cup

coconut oil

semi-solid

¼

cup

peanut butter

1

Tbsp

coconut or maple syrup

½

tsp

vanilla powder

(or 1 tsp vanilla extract)

¾

cup

grated coconut

10-ish

drops

liquid stevia

(or to taste)

pinch

sea salt

(I use salted peanut butter and leave this out)
CHOCOLATE DRIZZLE (OPTIONAL):
1

Tbsp

coconut oil

2

Tbsp

cocoa powder

½

Tbsp

coconut or maple syrup

stevia

to taste
Instructions
Be sure to begin with room temperature ingredients, as coconut oil can clump with anything cold.


Mix the oil, peanut butter, coconut or maple syrup, vanilla powder, and stevia together until well combined.


Stir in the coconut last.


Dollop the fat bombs onto a flat wax paper-lined plate or pan (this recipe yields about 10).


Freeze until firm.


Mix the ingredients for the chocolate drizzle, if using.


Drizzle atop the cold fat bombs.


Pop back into the freezer to allow the chocolate to set.

Notes
Nutrition facts based on using coconut syrup and includes the optional chocolate drizzle. WW SmartPoints: 7
Nutrition
Calories:
138
kcal
|
Carbohydrates:
6
g
|
Protein:
2.1
g
|
Fat:
12.6
g
|
Fiber:
1.2
g
|
Sugar:
3.4
g
Notes:
I would highly recommend using vanilla powder in this, as it adds such an incredible flavor.
These are some of the items I use in this recipe:
Recipe Steps:
Mixing...
Dollop the 'batter' onto wax paper...