Low-Fat Oatmeal Chocolate Chip Cookies - NO oil or butter and very little sweetener needed to make these delicious cookies.
Chewy centers with crisp edges seem to be the rage among cookie-eaters.
What's unfortunate about that is the copious amounts of sugar and butter involved in creating that desirable texture.
Now, I'm not averse to some butter, mind you, but I have lightened today's oatmeal cookie recipe up on both fronts!
The common downside to low-fat baking is that the recipe often has a lot of sugar. These cookies are a bit different in that they are both low in fat and low in sugar.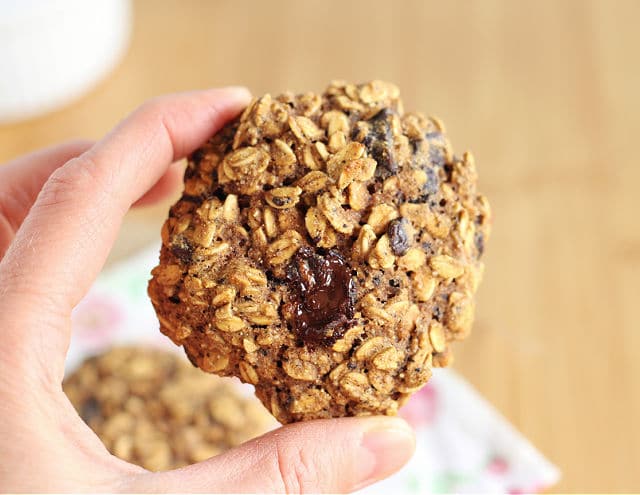 How do you make cookies low in fat?
Some of the most common ways of cutting the fat in a baking recipe include:
Fruit purees, such as applesauce, work very well and are my personal favorite way to lower the fat, as in today's cookies or these Applesauce Brownies.
Dairy, primarily yogurt, can be used to help lower the fat in a recipe. What I like about using yogurt is that it adds protein as well. These Protein Brownies are a great example.
Squash or sweet potato, like these Sweet Potato Cakes, make a great fat replacement.
Liquid sweeteners, such as honey or maple syrup, can replace fat, but the obvious downside is that they add sugar grams!
Prunes, as in these lower fat brownies, make a very tasty oil or butter substitute. Similar to applesauce, prunes add sweetness, and their flavor pairs particularly well with cocoa-based treats, like brownies or chocolate cake.
Typically, you substitute half of the fat in a cookie recipe with any of the above, and oftentimes, the total amount of fat in a cake or muffin recipe.
For this recipe, I chose to leave out the oil and butter entirely, which makes for a more cakey cookie, but I really enjoy these.
Be forewarned, these are a bit more 'breakfast cookie' than dessert cookie.
The texture of the oats pairs nicely with the flavors of cinnamon and chocolate, while the applesauce and maple syrup add a modest sweetness.
These make a delicious, lower-in-fat, mid-day treat for the sugar-conscious individual!
Print Recipe
Low-Fat Oatmeal Chocolate Chip Cookies
NO oil or butter and very little sweetener needed to make these delicious cookies.
Ingredients
1

cup

oats

¼

cup

buckwheat flour

(I grind my flour from the raw groats, which tastes best!)

½

tsp

baking soda

1

tsp

cinnamon

¼

tsp

sea salt

⅓

cup

applesauce

1

large

egg

2

tsp

vanilla

1

Tbsp

maple syrup

1/4-1/3

cup

chocolate chips or chopped dark chocolate

(I use a combination of 73% dark chocolate and unsweetened chocolate)
Instructions
Preheat oven to 350 degrees.

MIx the dry ingredients (oats, flour, baking soda, cinnamon, salt).

Mix the wet ingredients (applesauce, egg, vanilla, sweetener).

Mix all with the chocolate.

Dollop batter onto a parchment paper-lined cookie sheet (the batter will appear a bit crumbly at this point, but it will bake together fine).

Cool and enjoy!
Notes
Nutrition facts based on using 1/4 cup of chocolate chips.
WW Points: 4
Nutrition
Calories:
103
kcal
|
Carbohydrates:
15.9
g
|
Protein:
3
g
|
Fat:
3
g
|
Fiber:
1.9
g
|
Sugar:
5.6
g
Notes:
For extra sweetness, add in a little stevia.