This is my favorite way to eat butternut squash - A pat of butter or coconut oil, sprinkles of cinnamon and sea salt, and you have a healthy and delicious dessert or side!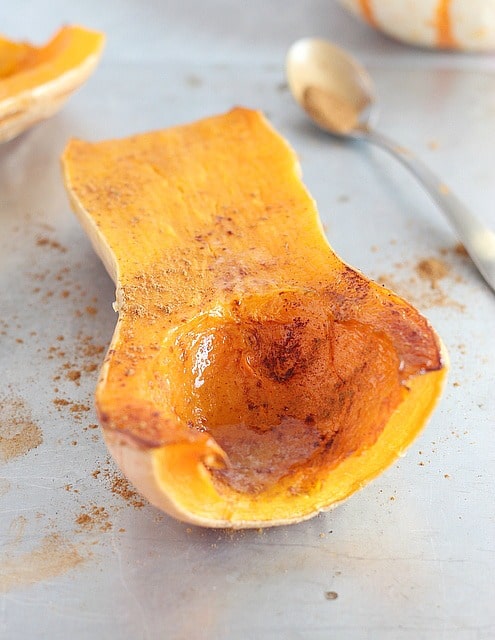 I know this is a very simple recipe, but it's something I've been enjoying immensely lately, so I wanted to share!
I bake my butternut squash the very same way I bake my sweet potatoes. This has been the easiest way for me, and it allows me to enjoy the squash multiple ways, not the least of which is eating it straight from the shell!
In light of butternut being orange and baked like a sweet potato, I thought it would be interesting to look at a comparison of the two:
| | | |
| --- | --- | --- |
| | BUTTERNUT SQUASH | SWEET POTATO |
| MEASUREMENT | 1 POUND | 1 POUND |
| CALORIES | 181 grams | 410 grams |
| CARBS | 47.6 grams | 93.9 grams |
| SUGAR | 8.9 grams | 29.4 grams |
| PROTEIN | 4 grams | 9.2 grams |
For the exact same amount, the butternut has about half of the calories, carbs, and sugar as a sweet potato.
This surprised me because I find the butternut to be quite sweet and just as satisfying as a sweet potato. It's also noteworthy for conditions like candida.
Personally, I find that I have to watch my carbs and sugar from all sources, even foods like potatoes and beans, or I can develop symptoms, so the above is especially useful for me.
Even though this recipe is simple, it's so delicious! I've been eating squash like this once a week, lately, and it has become something I look forward to.
The combination of butter, cinnamon, and sea salt makes for an almost dessert-like bite. You could even top it with some maple syrup and whipped cream to really complete the experience!
These would make a nice side for Thanksgiving, I'm thinking, and it'd be easy to make. Everyone gets a half to dress however they like!
Recipe steps
Trim the ends...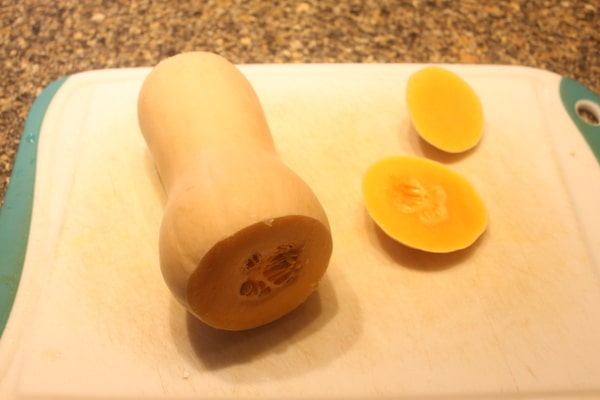 Halve...
De-seed...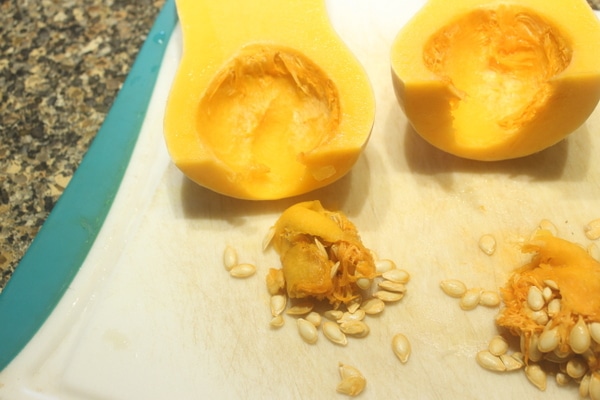 Coconut oil...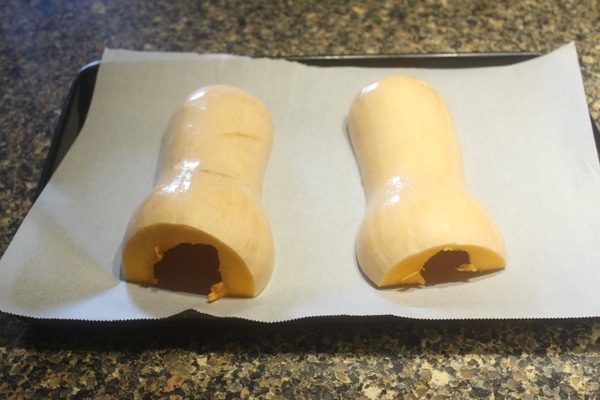 Post-bake...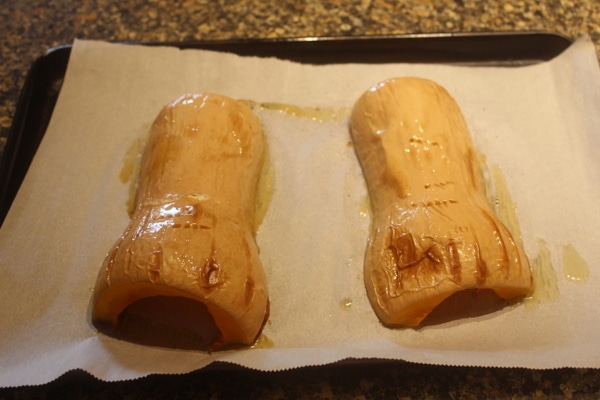 Recipe notes
I like my squash pretty soft, but not mush, so that's what these directions reflect. Use your fork as your guide though.
This also worked well with an acorn squash, though I prefer butternut.
In lieu of eating this straightaway, save the flesh for soups or even desserts! I'm thinking it might make a nice replacement for sweet potato in this Brownie recipe.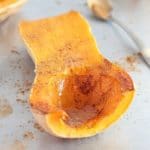 Print Recipe
Delicious Butternut Squash
This is my favorite way to eat butternut squash - A pat of butter, sprinkles of cinnamon and sea salt, and you have a healthy and delicious dessert or side!
Ingredients
1

two-pound

butternut squash

rinsed and dried

coconut oil

for baking
Instructions
Preheat the oven to 350 degrees.


Cut the ends off of the squash (about 1/2 inch).


Halve the squash, lengthwise.


Liberally rub the squash with coconut oil, inside and out.


Put the halves, flesh side down, onto a parchment paper-lined baking sheet.


Bake for 60 minutes, or until easily pierced with a fork.


Add toppings of your choice, including salt, butter or more coconut oil, cinnamon, and maple syrup to the flesh. It helps to score the flesh before adding the toppings or you can just mash it a bit.


Enjoy straight from the shell!

Notes
Nutrition facts based on just the squash, as coconut oil is subjective. WW SmartPoints: 6
Nutrition
Calories:
181
kcal
|
Carbohydrates:
47.6
g
|
Protein:
4
g
|
Fat:
0.4
g
|
Fiber:
14.6
g
|
Sugar:
8.9
g
---
If you have a chance to try this recipe, please leave a star rating and a comment below letting me know how you liked it!