Sesame Chicken and Broccoli Stir-Fry - This delicious stir-fry is one of my favorite ways to pair the health trifecta of chicken, broccoli, and brown rice!
A comforting meal
Change is an inevitable part of life.
Moving, growing, dying, changing jobs, changing schools...these are rather large events that don't necessarily happen every day, but other small changes are happening all of the time.
I'm not a fan of change.
I'm not a fan of adventure or doing new things or meeting new people (I'm such a crab, I know). May I simply freeze time and do over and over what I like without any outside distractions?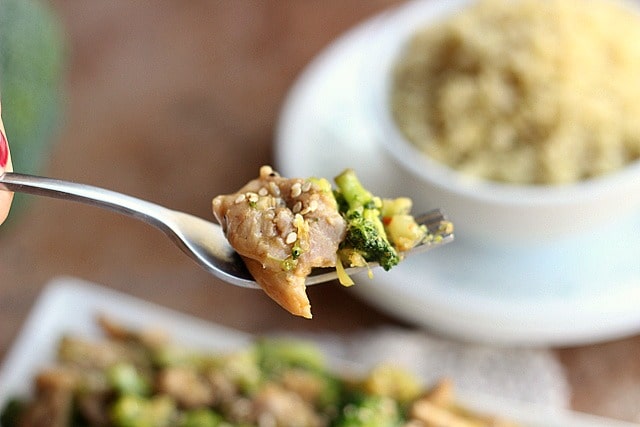 The ultimate health food trifecta: chicken, broccoli, brown rice
One of the ways I find myself trying to control the ever-evolving world, is by eating my favorite meals.
People talk of 'comfort food' and I never really knew exactly what it meant.
My initial reaction to the phrase was that 'comfort food' was something unhealthy. A big piece of chocolate cake, a drippy ice cream sundae, or a bucket of greasy fried chicken were all things that came to mind.
For me, comfort food is eating a meal that I love! Something I've made a number of times before and crave on a regular basis. It's something I know will turn out tasty and make me feel good.
Oftentimes, this meal is in the form of a stir-fry.
Delicious fluffy brown rice, topped with a medley of protein and vegetables, all lightly tossed in a sweet and tangy sauce.
This, to me, is true comfort food, and a consoling constant in my life that I can always rely on.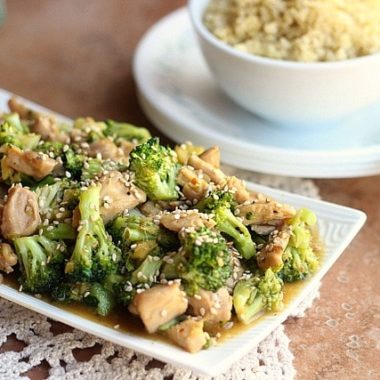 Print Recipe
Sesame Chicken and Broccoli Stir-Fry
This delicious stir-fry is one of my favorite ways to pair the health trifecta of chicken, broccoli, and brown rice!
Ingredients
STIR-FRY:
2

Tbsp

olive oil

divided

1

pound

chicken thighs

chopped into bite-size pieces

salt and pepper

to taste

2

garlic cloves

minced

4

scallions

chopped

4

tsp

fresh ginger

minced

4

cups

broccoli

chopped into bite-size pieces

4-5

Tbsp

water

as needed
SAUCE INGREDIENTS:
2

Tbsp

tamari or soy sauce

1

Tbsp

orange juice

2

tsp

honey

(use 3 teaspoons for a sweeter stir-fry)

1

Tbsp

rice vinegar

1 ½

tsp

sesame oil

1 ½

tsp

arrowroot

¼

tsp

red pepper flakes
Instructions
Begin by heating one tablespoon of oil in a large pan.

Add in the chicken thigh pieces along with some salt and pepper, and cook through (about 10 minutes), stirring often.

Meanwhile, whisk the sauce ingredients together in a small bowl: soy sauce, orange juice, honey, rice vinegar, sesame oil, arrowroot, and red pepper flakes.

Once the chicken is cooked, transfer it from the pan to a plate.

Deglaze the pan by adding two tablespoons of water; stir up any brown bits.

Add the other tablespoon of oil to the same pan, along with the garlic, scallions, and ginger.

Saute the mix for about 30 seconds, until fragrant.

Stir in the broccoli, along with 2-3 tablespoons of water, and cook until bright green.

Add back the chicken pieces, as well as the sauce ingredients (be sure to give the sauce mix a little whisk before adding to stir up the arrowroot).

Cook the mix just until the sauce thickens and coats the broccoli and chicken pieces.

Serve atop quinoa or brown rice with a sprinkle of toasted sesame seeds.
Notes
Nutrition facts are based on using two teaspoons of honey. WW points (new system): 9
Nutrition
Calories:
355
kcal
|
Carbohydrates:
13
g
|
Protein:
36.5
g
|
Fat:
17.6
g
|
Polyunsaturated Fat:
1
g
|
Fiber:
3.1
g
|
Sugar:
5.3
g
Notes:
If you're not a fan of broccoli, use four cups of any vegetables you like!
Some of the items I use in this recipe include: