Chewy, healthy, and delicious cookie dough balls made with good-for-you ingredients, including oats, coconut, and peanut butter.
I had a pretty sweet Mother's day.
My girls tried really, really hard to get along with each other, and they also (tried) to be excited about the dinner I chose, which was all I really wanted.
Natalie is in a picky stage right now with food. That kid won't eat anything that isn't sweet, including spaghetti and pizza! Many of my chicken and rice dinners are falling flat with her buds lately, so I was happy she tolerated my Mother's day selection.
The hubs was at work, but he got me the best gift ever...the complete series of I Love Lucy!!
I Love Lucy is my favorite show ever, people. If I were to describe my sense of humor, it would be a cross between Lucille Ball and Al Bundy. I know that's like mixing cookie dough with steak fajitas, but hey, it is what it is.
Speaking of cookie dough, let's gab about some!
I used to love date-based raw treats, but since having Sam, dates are something I have to eat sparingly or my candida symptoms begin to flare up.
Though I use dates in this recipe, I limit them, and thus the sugar, by soaking a few in hot water and adding in the resulting sweetened liquid. This sort of 'spreads' the date taste around a bit without having to use a copious amount.
I also vary the nuts/seeds I use, depending on if Jadie is going to have any. For myself, I love raw walnuts, but for the kids, I use raw pumpkin seeds. Both are delicious, it just depends on your taste preference.
Toss in a healthy dose of vanilla and a handful of chocolate chips, and you've got a great little treat, full of life-giving energy!
Print Recipe
Vanilla Chocolate Chip Cookie Dough Balls
Delicious, healthy, raw treats made with oats, coconut, and just a few dates!

Ingredients
3

dates

Medjool

¼

cup

hot water

¾

cup

oats

½

cup

coconut

unsweetened, grated

½

cup

raw walnuts or raw pumpkin seeds

¼

tsp

sea salt

1

Tbsp

peanut butter

2

tsp

vanilla extract

see Notes

2

Tbsp

chocoalte chips or cacao nibs
Instructions
Soak the dates in the hot water for 5-10 minutes.

Pulse together the oats, coconut, nuts or seeds, and salt together until broken down.


Add in the dates, peanut butter, vanilla, and 3-4 tablespoons of the date soaking water, as needed.


Pulse in the chocolate.


Form ten balls with the dough.


Keep any uneaten balls in a sealed Tupperware in the fridge.

Notes
Nutrition facts based on using pumpkin seeds and chocolate chips. Fat: 6.3 g  Carbs: 9.6 g  Sugar: 3.3 g  Protein: 3.3 g; WW SmartPoints: 4
Nutrition
Notes:
Adapted from Food Network
In lieu of two teaspoons of vanilla extract, I often opt to add one teaspoon of this vanilla powder instead.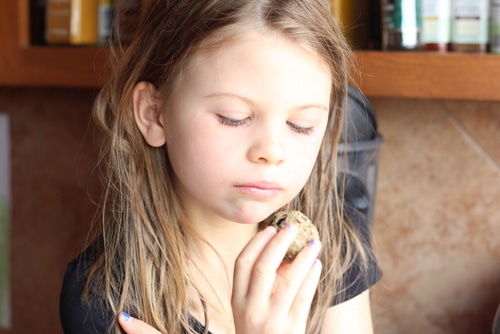 Skeptical Jade...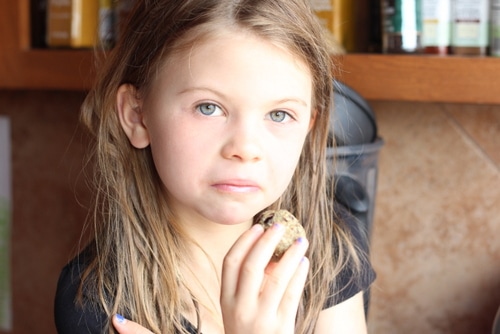 Aware-of-me Jade...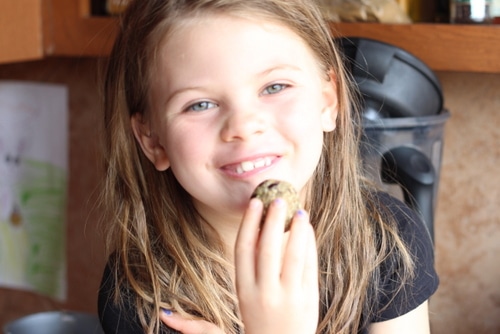 Beautiful Jade.