This fudgy brownie for one is an easy, low sugar recipe that makes a small serving - NO eggs, dairy, or gluten!

Greetings, and welcome to the first recipe of my annual Detox-mas! For any newbies, this is the month where I basically try to encourage you to 'retrain' your sweet tooth and lower the amount of sweetener you add to recipes.
I jumped on this bandwagon shortly after my third child was born, as I was experiencing a range of candida symptoms.
I've been eating low sugar ever since. By that, I mean a minute amount of added sweetener, usually in combination with stevia, and NO sugar alcohols.
Brownies for the new year
So, I know we're only two weeks into the new year, but this treat is healthier than your average brownie!
With only one and a half teaspoons of added sweetener, this whole grain brownie is a delicious and healthy way to feel indulgent.
I served my husband one yesterday, upping the amount of added sweetener to about two teaspoons, and he LOVED it.
I've found one of the keys to a good fudgy brownie is little to no leavening agent (baking soda, baking powder, etcetera). I use just a tiny pinch here, which counteracts the bitterness of the cocoa just a bit and helps the brownie bake.
I like to top my brownie with a combination of sweetened and unsweetened chocolate to further lower the sugar. See the below notes for my favorite unsweetened chocolate bar!
Lower sugar tips
-Eliminate the coconut sugar and just use the 1/2 teaspoon of maple syrup with some extra stevia. This takes the sugar grams from 9.5 to 5.5.
-Use my Homemade Coconut Milk to aid with natural sweetness.
-Use a combination of unsweetened chopped chocolate and sweetened chocolate as the topping. This is what I always do!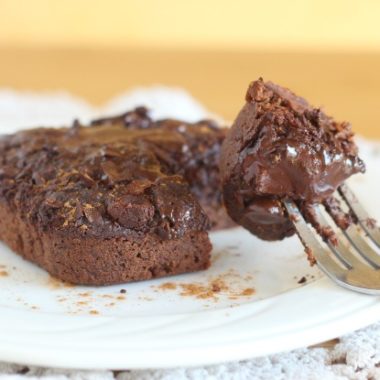 Print Recipe
Fudgy Brownie for One
This fudgy brownie for one is an easy, low sugar recipe that makes just enough to serve one - NO eggs, dairy, or gluten!
Ingredients
2

Tbsp

oat flour

1

Tbsp

buckwheat flour

4

tsp

cocoa powder

pinch

baking soda

dash

sea salt

2

Tbsp

applesauce

1

tsp

coconut sugar

½

tsp

maple syrup

¼

tsp

vanilla extract

2

Tbsp

milk of your choice

1

Tbsp

chopped chocolate or chocolate chips

optional

stevia, to taste

(I use about four drops)
Instructions
Preheat the oven to 350 degrees.

Mix the flours, baking soda, salt, and cocoa in a small bowl.

Stir in the rest of the ingredients until all is well combined.

Pour the batter into a small, well-oiled ramekin (it should hold about 8-10 ounces).

Top with chocolate, if using.

Bake for 12-15 minutes, just until the top is set.
Notes
Nutrition facts are based on using unsweetened almond milk and no added chocolate. Adding one tablespoon of regular chocolate chips brings the total sugar grams to 14.9 g. See below for sugar-saving tips!
WW SmartPoints: 5
Nutrition
Calories:
131
kcal
|
Carbohydrates:
27.2
g
|
Protein:
3.9
g
|
Fat:
2.4
g
|
Fiber:
4.5
g
|
Sugar:
9.5
g
---
If you have a chance to try this recipe, please leave a star rating and a comment below letting me know how you liked it!