How To Make Homemade Coconut Milk - This luscious coconut milk recipe is an easy way to enjoy the tropical alternative milk. It's delicious in everything from smoothies to curries!
As a kid, I would go to great lengths to avoid certain foods, including onions, potatoes, and squash of any sort.
To be honest, there weren't many vegetables I could stomach. Peas and raw carrots were the extent of it!
My mom was not the best cook (sorry mom!), but she did try to give us healthy meals. They typically consisted of a hamburger patty, some boiled red potatoes, and a vegetable of some sort.
Dinner was definitely NOT the meal I looked forward to!
Aside from vegetables, I also had a strong distaste for anything coconut.
These days, I adore the tropical sphere!
Up until recently, I'd been buying Trader Joe's Light Coconut Milk, but I then began noticing that it seemed to be causing me some digestive and eczema trouble, so I promptly stopped.
Allergies can be weird in that way. One day, I'm able to enjoy a food and the next thing I know, I'm allergic to it!
Anyhow, this new turn of events all led me on a mission to create my own coconut milk.
This isn't your typical watered down rice milk-ish drink, but rather a thick, luxurious beverage that would be delicious in any dessert, smoothie, or even on its own!
I'm happy to report that I've tolerated this homemade coconut milk without any trouble for years now!
It just goes to show you how finicky your body can be. Perhaps with TJ's milk, I was reacting to the can?...or something in the canning process? I never know.
Print Recipe
How To Make Homemade Coconut Milk
Thick and creamy homemade coconut milk made with just two ingredients!

Ingredients
4-5

cups

water

see Notes

8

ounces

unsweetened coconut shreds

about two cups
Instructions
Add the water and coconut to a high speed blender.

Blend the ingredients together in a high-speed blender for 30-40 seconds.

Pour the milk into a container with a fitted lid.

Refrigerate and use as you would any other milk.
Notes
Nutrition facts are based on two cups of unsweetened coconut.
WW point: 8
Nutrition
Calories:
142
kcal
|
Carbohydrates:
6.1
g
|
Protein:
1.4
g
|
Fat:
13.4
g
|
Fiber:
3.6
g
|
Sugar:
2.5
g
Notes:
For a more economic (but not as luscious) milk, I use five cups of water, which still works well.
Add 1-2 teaspoons of vanilla with 1-2 soft dates for a creamy vanilla coconut milk treat!
I like this nut milk bag for making dairy-free milks.
Some of the items I use to make this recipe include:
Recipe steps:
Begin with the coconut and water...
Blending...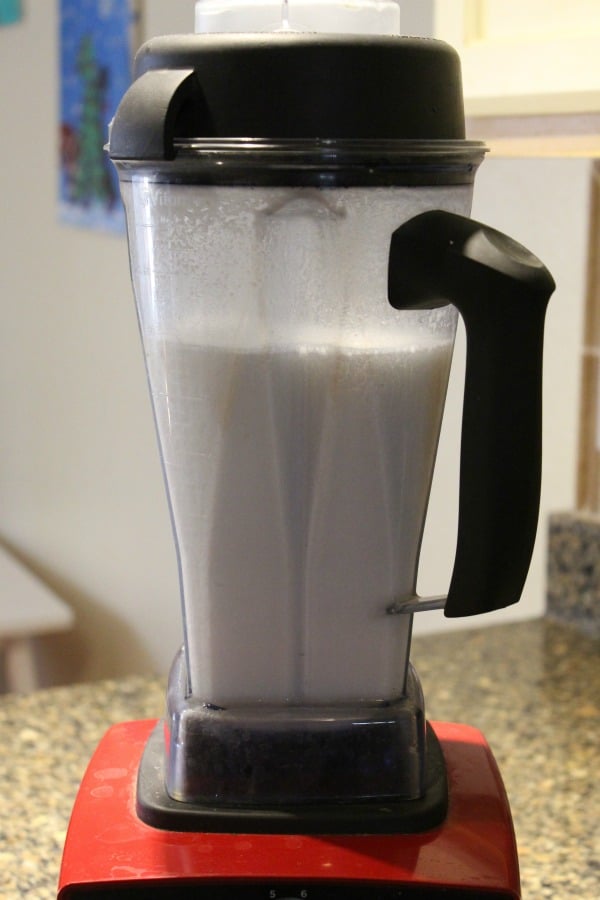 Straining...