Sugar-Free Cookie For One - A scrumptious, guilt-free treat made without any added sweeteners!
Have you ever thought about the amount of sugar we blindly add to recipes?
Let's take cookies, for instance.
The typical ratio for a chocolate chip cookie is around 3/4 cup of sugar to one cup of flour.
Now, let's say that makes around 12 cookies. If we take the number of tablespoons in 3/4 cup (12) and divide it by the number of cookies (12), we find that each cookie has about a tablespoon of sugar.
Let's, in contrast, look at the flour amount. The total tablespoons of flour in one cup is 16. Divide 16 by 12 (the total number of cookies) and we find that each cookie has about 1 1/3 tablespoons of flour. That's not a really substantial amount of flour, ergo, not a very big cookie.
My point is that you'll probably have two or three of said cookies, leading to your eating 2-3 tablespoons of sugar in one sitting!
Three tablespoons of sugar is nine teaspoons, and each teaspoon of sugar is four grams, leading to a total of about 36 grams of sugar!
Even then, I'm being rather conservative with my sugar estimate, as there are many cookie recipes that have equal amounts of flour and sugar.
What's the point?
My point is that since childhood, you've probably been accustomed to a cookie having a certain 'taste' and texture, amiright? We don't even think about it!
The whole purpose of my 'Detox-mas' month is to encourage you to retrain your sweet tooth.
I'm not suggesting low carb or no fruit or any of the other crazy restrictive diets out there, but simply lowering the amount of sugar you use! I've personally been doing this now for over six years and am much better off for it.
I hardly need any sweetener in my treats, with today's recipe being a shining example.
I created this cookie over the summer and knew I wanted to save it and include it with Detox-mas.
It's simple and delicious, and it has NO added sugar!
For me, the whole grains, as well as the added fat are both very satisfying. I'll often whip some fresh cream to serve alongside it too!
Please check out the notes about flours, and give it shot! To buffer the shock of sugar-free, you could try adding a teaspoon with a little stevia as well. Just try to lower the amount of sugar you're used to, and you're one step closer to improving!
Recipe notes
There are various flour combinations I use with this recipe. I've used oat, spelt, barley, pumpkin seed flour (ground pumpkin seeds), and teff, and mixtures of these flours all with great results. The amount of applesauce will vary, depending on which flours you choose, so add that slowly as the last ingredient.
You can keep this totally sugar-free by using 100% chocolate chips or splurge a bit and use dark chocolate.
Some of my favorite flour combinations
2 Tbsp barley flour + 1 Tbsp teff flour
3 Tbsp oat flour
1 Tbsp oat flour + 1 Tbsp barley flour + 1 Tbsp teff flour
2 Tbsp oat flour + 1 Tbsp spelt flour
2 Tbsp oat flour + 1 Tbsp pumpkin seed flour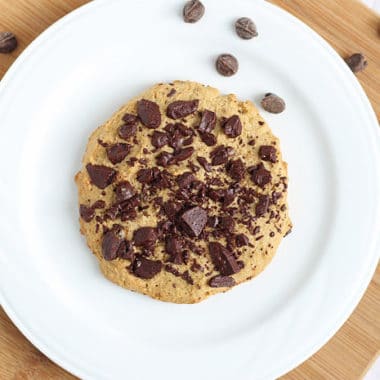 Print Recipe
Sugar-Free Cookie For One
A scrumptious, guilt-free treat made without any added sweeteners! Gluten-free, sugar-free, nut-free.
Ingredients
3

Tablespoons

flour

see Notes

pinch

baking soda

couple

dashes

sea salt

1

Tablespoon

melted coconut oil or butter

¼

teaspoon

vanilla extract

stevia

to taste

½ - 1

Tablespoon

applesauce

chocolate chips

use unsweetened to keep it totally sugar-free
Instructions
Preheat the oven to 350 degrees.

Mix all ingredients together, adding the applesauce last.

Add enough applesauce to bring it all together to cookie dough consistency (not too wet). This will vary, depending on what flours you use.

Bake for 12-15 minutes or until lightly golden.
Notes
Nutrition facts are based on using oat flour, butter, and one tablespoon of applesauce.
Weight Watchers points: 8
Nutrition
Calories:
179
kcal
|
Carbohydrates:
13.7
g
|
Protein:
2.4
g
|
Fat:
12.7
g
|
Fiber:
1.9
g
|
Sugar:
1.7
g
---
If you have a chance to try this recipe, please leave a star rating and a comment below letting me know how you liked it!