This delicious and healthy cookie is made with ingredients that are naturally high in protein (NO powders), and it only contains ONE teaspoon of added sugar.
Not to start off on a sour note, but today would have been my dad's 74th birthday.
It's hard to believe that over 20 years have gone by since he passed. At this point, I've spent more of my life without him than with him.
Birthdays, anniversaries, and the like don't make my sadness any greater, but they do remind me of him, and I just wanted to acknowledge those thoughts today.
Some of my best memories of my dad include eating and cooking!
Though he worked during the week, on weekends, he'd often take the cooking reigns, making all sorts of delicious recipes! My favorites included submarine sandwiches with from-scratch soups, like beef barley...Mexican food spreads with rice, beans, and fajita fixings...even homemade pizza, complete with his own dough and sauce.
I regret being neither old enough nor wise enough to ask him for all of his recipes, which I miss terribly.
Though today's recipe is not an ode to my dad, per se, I do like to think he'd be proud of the food I'm making!
I made this cookie as a way to enjoy an energizing treat before the gym, but also get a good amount of protein to keep my blood sugar balanced.
The protein in the cookie comes naturally from pumpkin seed meal, which you can make simply by grinding raw pumpkin seeds in a coffee grinder, oats, chia seeds, and almond butter.
Top it with your favorite add-in (chocolate chips, in the case of this girl), and you've got a great, healthy treat to enjoy before your workout!
Print Recipe
Pre-Workout Protein Cookie for One
This delicious and healthy cookie is made with ingredients that are naturally high in protein (NO powders), and it only contains ONE teaspoon of added sugar.

Ingredients
DRY INGREDIENTS:
3

Tbsp

oat flour

1

Tbsp

pumpkin seed meal

1

Tbsp

oats

⅛

tsp

baking soda

dash

sea salt

1

tsp

coconut sugar

½

tsp

chia seeds
WET INGREDIENTS:
½

Tbsp

almond butter

1

Tbsp

applesauce

1

Tbsp

milk of your choice

½

tsp

vanilla extract

2

drops

liquid stevia

or to taste

1

Tbsp

add-ins (chocolate chips, raisins, nuts, etc.)
Instructions
Preheat the oven to 350 degrees.


In a medium bowl, mix together the dry ingredients.


Stir in the almond butter, until the mixture looks pebbly.


Add in the remaining ingredients and stir until the dough is well combined. You can add in your toppings or top the cookie with them.


Pour the batter into a well-oiled, small ramekin or mini cast iron skillet.


Bake 10-12 minutes just until the top is set.


Top with yogurt (extra protein!), whipped cream, and a good sprinkle of cinnamon!

Notes
Nutrition facts based on using unsweetened almond milk and chocolate chips. WW SmartPoints: 10
Nutrition
Calories:
279
kcal
|
Carbohydrates:
31.5
g
|
Protein:
8.1
g
|
Fat:
13.8
g
|
Fiber:
4.8
g
|
Sugar:
11.7
g
Notes:
Use almond meal as a substitute for pumpkin seed meal, if you prefer.
Any nut or seed butter will work for the almond butter, just be sure you enjoy the taste. Peanut butter would be tasty and add a bit more protein!
I like to use my Homemade Coconut Milk in this recipe.
This is my favorite stevia to use, as it's the most whole form of the herb I've found.
This is my favorite mini cast iron skillet to use for my single serve cookies.
Some of the items I like to use in this recipe include:
A couple of recipe steps:
Grab a helper to mix up the dough!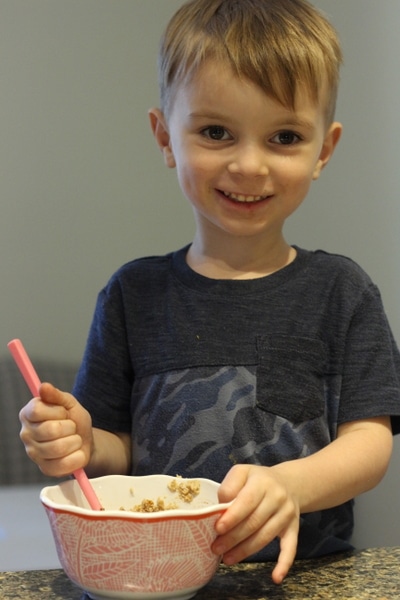 Put the batter into a small 6-10 ounce ramekin or a mini cast iron skillet...
Get in thy belly!