Can you guys believe there are only 3 official days of summer left?
It is still blazingly hot in AZ. We're averaging in the high 90s and will probably continue to do so until mid-November.
Today's post is going to be a bit abbreviated, as my family and I are moving into a new home this weekend, so I've got some serious packing to do!
This recipe is one I hope you'll find intriguing enough to give a try, as it is not only healthy, but delicious!
French toast made from oatmeal!
The basic premise is the same as polenta.
Polenta is basically cooked cornmeal.
You can make it sweet or savory, depending on what you add in, and you can create a kind of cake with it by pouring it into a dish and letting it set. In this recipe, I just subbed the cornmeal for oats.
NO-BREAD OATMEAL FRENCH TOAST
BASE
2 1/4 c. water
1 1/2 c. oats
1/4 t. salt
Bring the water to a boil in a saucepan. Add the salt and oats. Cook, uncovered, until the oats are done and the water has completely evaporated.
Pour the cooked oatmeal into an oiled 8 x 8 baking dish.
Put the dish into the fridge, UNCOVERED, for at least 2 hours until set and firm to the touch. I usually do this step the night before and leave it in the fridge, uncovered, until morning.
CUSTARD
2 eggs
2/3 c. milk of your choice
1 T. honey or maple syrup
dash of salt
1/2 t. vanilla
1/2 t. cinnamon
a few scrapes of nutmeg
Mix the custard ingredients well. I usually make both components the night before and assemble everything in the morning.
In the morning, preheat oven to 375 degrees.  Pour the custard mix into a pie plate. Cut the chilled oatmeal into nine equal squares. Dip oatmeal squares into mixture, allow to soak for 30 seconds on each side.
Over medium-low heat, melt 1 tablespoon of butter or coconut oil in a non-stick pan.  Place 2 slices of oatmeal 'bread' at a time into the pan and cook until golden brown, approximately 2 to 3 minutes per side.  Remove from pan and place on baking sheet in oven for 5-10 minutes.  Repeat with all 9 slices.  Serve immediately with maple syrup or your favorite topping.
Either way you make this, the oat squares get nice and crisp on the outside, while still being soft and creamy on the inside….and you're eating oatmeal, people.
I hope you guys like breakfast recipes, because that seems to be where my mind is at!
Wish us luck packing and moving! The girls are super excited!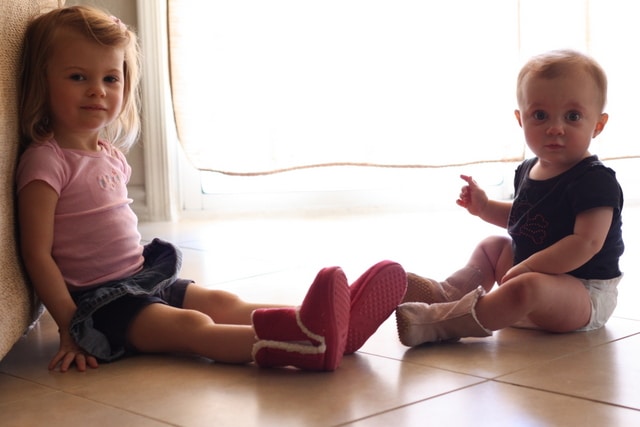 ……matching baby Uggs and all!