Tomato-Free Vegetable Beef Chili - This is our family's favorite allergy-friendly chili recipe, NO tomatoes needed! Packed full of veggies and protein.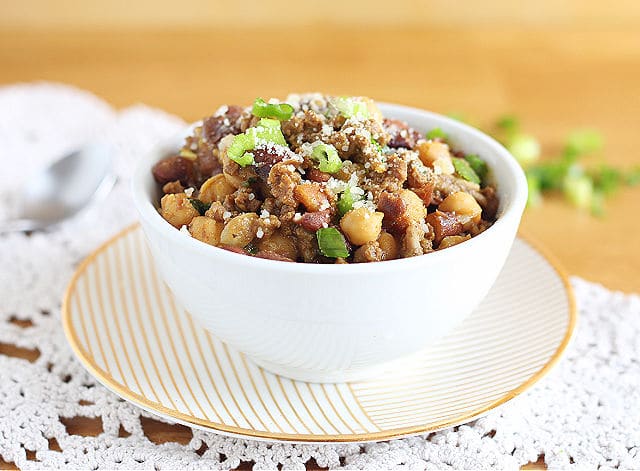 Tending to six different appetites can be difficult.
Because we all have different allergies and tastes, I am in a perpetual head-spin catering to everyone.
My husband is in constant need of protein to sustain all 200+ pounds of him, while my oldest daughter has to be treated carefully because of her vast array of allergies.
Lucky for me, Natalie is virtually allergy-free and a good sport with just about any meal, but Sam and Mickie are both quite particular.
Life is made easier if I find meals that at least three of us can (and will!) eat, which is why I love this recipe!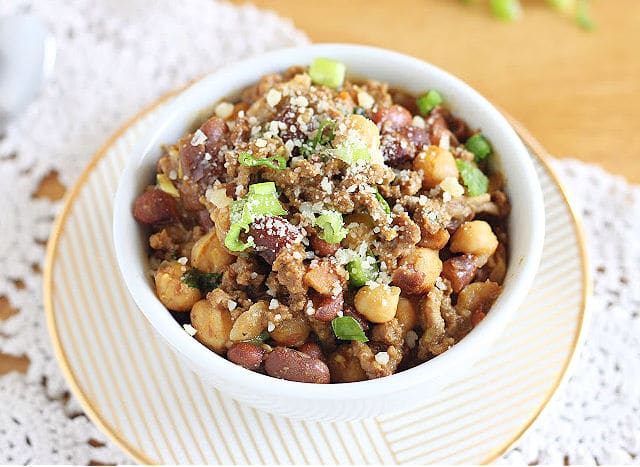 Tomato-free chili?
While there may be differing opinions about whether beans should be in chili (they should!), tomatoes are typically a staple.
However, with Jade's myriad food sensitivities, I've created this tomato-free version in which we truly never miss the tomatoes!
I also like to add in a good dash of turmeric, which may seem like an odd addition, but it tastes great and adds some anti-inflammatory action.
To bump up the nutrition even more, I sneak in a carrot and a zucchini for even more veggies. The zucchini adds a bit of bulk, and you never even taste it.
It's filling, hearty, and delicious!
Also, if I make it for lunch, I have easy leftovers for the kids.
If you enjoy beans, try some of my other recipes with beans!
Print Recipe
Our Favorite Vegetable Beef Chili (Tomato-Free)
Our favorite allergy-friendly chili recipe, NO tomatoes needed!
Ingredients
1

pound

ground beef

½

yellow onion

chopped

½

green pepper

chopped

2

garlic cloves

minced

1

carrot

chopped

1

small zucchini

chopped fine

½

tsp

turmeric

1

Tbsp

chili powder

1

tsp

cumin

½

tsp

dried oregano

1

tsp

sea salt

plus more to taste

½

cup

water

1

15-ounce

can red kidney beans

with bean juice (you can use what you like!)

1

15-ounce

can chickpeas

with bean juice

¼

cup

fresh cilantro or parsley

chopped
Instructions
Add the ground beef to a large, heated pot and begin to brown it.

Stir in onion, bell peppers, and garlic and cook for 1-2 minutes.

Add in the remaining veggies and spices (carrot, zucchini, turmeric, chili powder, cumin, oregano, salt) and cook about 5-7 minutes until vegetables soften.

Pour in the water and both cans of beans (with their juices) and bring the mix to a boil.

Lower the heat and simmer the chili (uncovered) for 30-45 minutes, until it achieves your desired thickness.
Notes
Nutrition facts based on using black beans.
WW Points: 5
Nutrition
Sugar:
1.6
g
|
Fiber:
5.9
g
|
Calories:
233
kcal
|
Fat:
4.6
g
|
Protein:
23.3
g
|
Carbohydrates:
24.7
g
Notes:
I've used both black and pinto beans in place of the kidney with great success.
We like to serve the chili with an array of other things, including scallions, sour cream, grated cheeses, avocado, and salsa.
Some of the items I use in this recipe include:
Shared with: Create, Bake, Grow, and Gather Party, Thursday Favorite Things