Candida Diet Bread - A delicious gluten-free and nut-free bread recipe that is approved by kids and slices easily. No sugar, starch, or gums needed!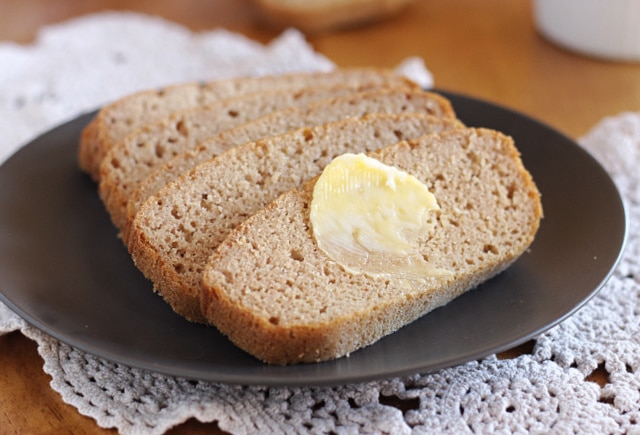 No more gluten....for a while
So, it's finally happened. I've shown "allergic" to gluten.
Allergic in quotation marks because every allergy test I do is different depending on my stage of health.
Right now, I'm in a bad stage.
Shortly after Mickie's birth, I started having tons of pain. Back pain, neck pain, joint pain, jaw pain, you name it, I've had it! Hers was a difficult pregnancy for me, complete with sickness, stress, and major blood loss upon birth. I think it all was a recipe for disastrous health, postpartum.
After months and months of trial and error, doctors, and testing, I've found that I'm in need of pelvic floor rehab as well as treatment for Lyme disease and (possibly) mycotoxins.
I've also overhauled my diet a bit, reducing grains and cutting gluten out completely.
I was already on a low sugar diet, but now I don't use any sweeteners and am even limiting my fruit intake. Ergo, more candida-friendly recipes!
Kid-approved candida bread
My kids can be quite picky with eating, particularly when it comes to bread, and even MORE particularly so with gluten-free bread.
I've been through quite a few different 'prototype' breads, including ones with quinoa, millet, coconut flour, rice flour, sorghum flour, and chickpea flour, all rejected one right after the other.
I really dug a couple of them, but they were a bit 'involved', requiring soak time for the grains and the use of a food processor, so it didn't exactly break my heart when they were snubbed.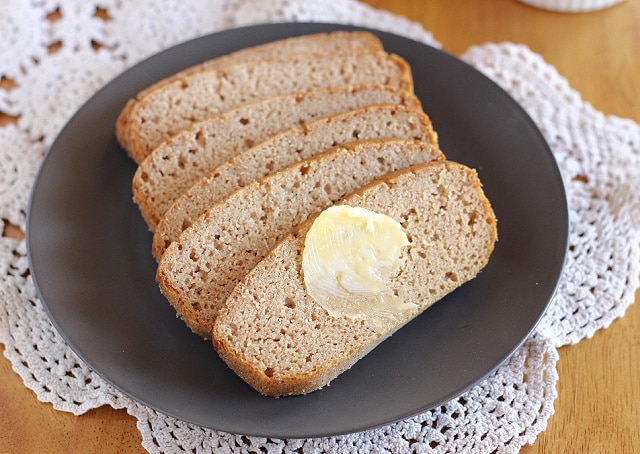 This bread, however, they love.
They actually request it!! I can't believe it, and the great thing is it's probably the easiest recipe of all that I've made.
No processor, no soak time, and I have bread in under an hour!
In addition, there are no gums, starches, or other complicated additions. It's even SUGAR-FREE! What a bargain, heh?
However you make this bread, I hope it's as big a hit for you as it is in our home!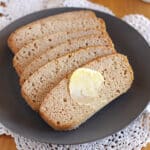 Print Recipe
Candida Diet Bread
Awesome gluten-free, candida-friendly bread that slices easily and is FREE of sugar, starches, and gums!
Ingredients
DRY INGREDIENTS:
½

cup

coconut flour

½

cup

buckwheat flour

1

tsp

baking soda

½

tsp

sea salt
WET INGREDIENTS:
4

large

eggs

¾

cup

water

see Notes

2

Tbsp

oil

grapeseed, coconut, or olive all work

2

tsp

apple cider vinegar
Instructions
Preheat the oven to 350 degrees.

Mix the dry ingredients (flours, baking soda, salt) together in a large bowl.

Whisk the wet ingredients (eggs, water, oil, vinegar) in a separate bowl.

Mix all until well combined.

Pour batter into a well-oiled loaf pan.

Bake 35-45 minutes or until springy to the touch.

Remove and cover with a dish towel (while still in the pan).

Let sit 5-10 minutes.

Uncover, cut, and enjoy! This cuts best when completely cooled.
Nutrition
Notes:
Here are a few variations I've tried and loved:
-applesauce in place of 1/4 cup of water
-use milk in place of the water (my Coconut Milk is delicious in here!)
-added spices to make it savory or 'sweet' (rosemary, garlic, onion, cinnamon, vanilla, pie spice, etc.)
-added nuts or seeds; add some dried fruit if you're not eating for the candida diet (cinnamon raisin, anyone?)
This recipe makes a dense, short loaf...just an FYI.
I use this coconut flour in this recipe (coconut flours vary in absorbency, so please be aware).
For those with egg allergies, my best suggestion is to try my Yeast-Free Buckwheat Bread!
Some of the items I use to make this recipe include: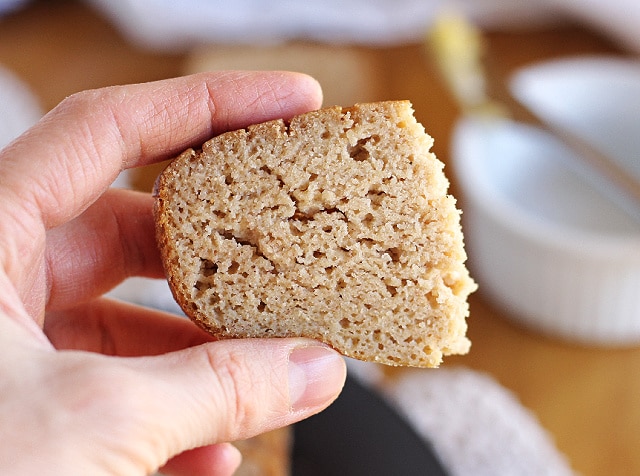 Shared with: Inspire Me Monday, Thursday Favorite Things