Simple Cabbage and Eggs - This quick, easy, and wallet-friendly meal has become my favorite recipe to make for lunch or a light dinner!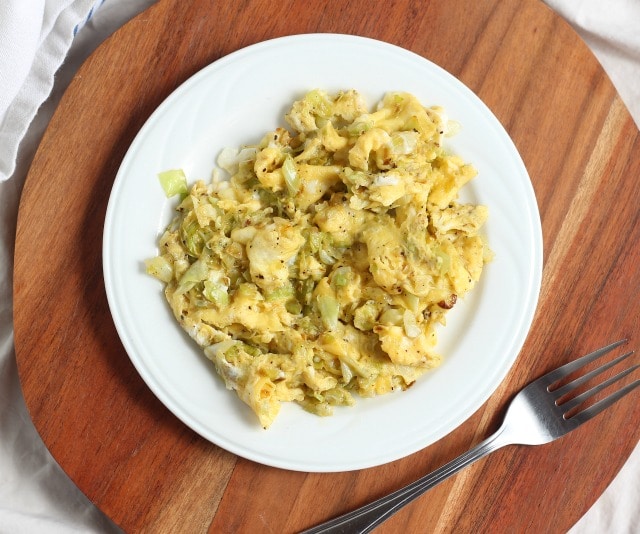 Hello, dear readers.
I feel sad that I haven't been able to give this blog the attention it deserves the past year or so, as this blog is like my fifth baby!
2020 has been one of the hardest years of my life. I'm sure that's the case for many of you as well.
While the political and worldly aspects are definitely stressful, I've personally been trying to overcome an onslaught of health issues.
Shortly after Miki's birth, I began experiencing a great deal of pain along with myriad other symptoms, and it has yet to resolve itself. I'm currently in the process of trying to figure out exactly what's happening.
I tell you this not for sympathy, but to help you understand my absence here. I've mentioned some of this before, but I guess I wanted to update you all a bit and let you know that I'm still working on things.
I'll never abandon this blog!
It has been such a huge part of my adult life, and I will always treasure it. I appreciate each and every one of you that has subscribed and actually read what I write.
The intimacy of blogs, food blogs in particular, seems to be a thing of the past. It's all about rank now, which saddens me, as many of my favorites have removed the personalization that drew me to them to begin with.
On Oatmeal with a Fork, I hope to never lose that.
Some of you have been with me for years, and I so value the 'relationships' I've built with you. It is my goal to get better, and post more of the recipes I have created this past year!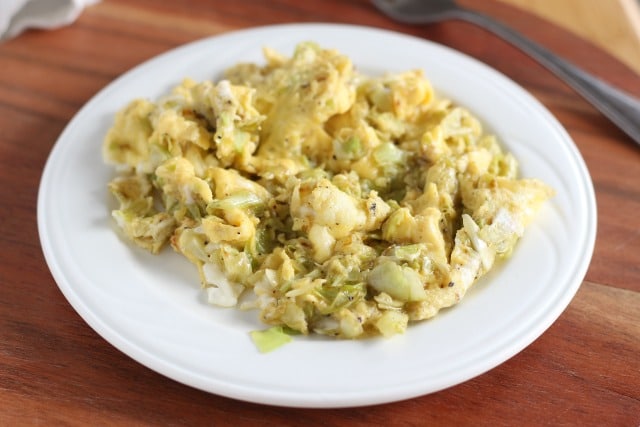 Simply cabbage and eggs
Today's recipe is one of those simple meals that seemed almost TOO simple to post, but it's so good!
I've been enjoying this immensely lately as either a quick lunch or light dinner. The other night, I paired it with a quinoa salad, which made a very nice complement!
I think a side of brown rice or maybe a baked sweet potato would both be nice accompaniments.
My personal taste is to saute the cabbage in a combination of butter and olive oil, but you can use all of one or the other if you like.
I'd love to know what you think if you try it!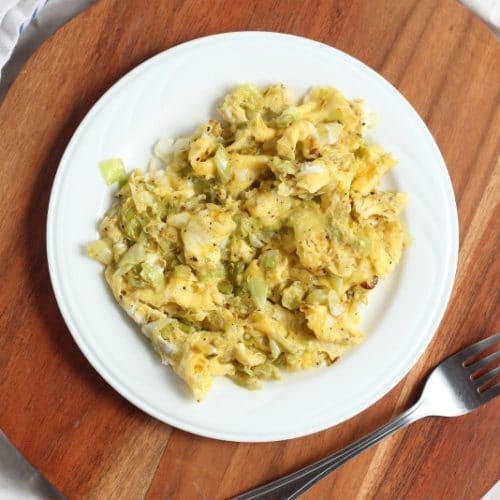 Print Recipe
Simply Cabbage and Eggs
This quick, easy, and wallet-friendly meal has become my favorite recipe to make for lunch or a light dinner!
Ingredients
1

Tbsp

butter or olive oil

I like a combination of the two

1

garlic clove

minced

1

cup

lightly packed cabbage

finely shredded

2

eggs

lightly beaten

salt and pepper

to taste
Instructions
Heat a non-stick pan over medium heat.

Add in the butter and/or oil and spread it in the pan.

Add in the garlic and let it become fragrant for 20 seconds or so.

Add in the cabbage and cook, stirring frequently, until it softens, about 3-5 minutes. I like to cook mine until it is beginning to caramelize, which can take a minute or two longer.

Spread the cabbage out in a thin layer.

Pour in the eggs, tilting the pan a bit to spread them out.

Let the eggs cook for about 15-20 seconds and then fold them over gently until they are cooked through.

Remove from heat and serve immediately!
Notes
Nutrition facts based on using olive oil.
WW Points: 9
Nutrition
Calories:
268
kcal
|
Carbohydrates:
5.7
g
|
Protein:
12.2
g
|
Fat:
22.8
g
|
Fiber:
1.8
g
|
Sugar:
3
g
Recipe steps:
Sauteing the cabbage...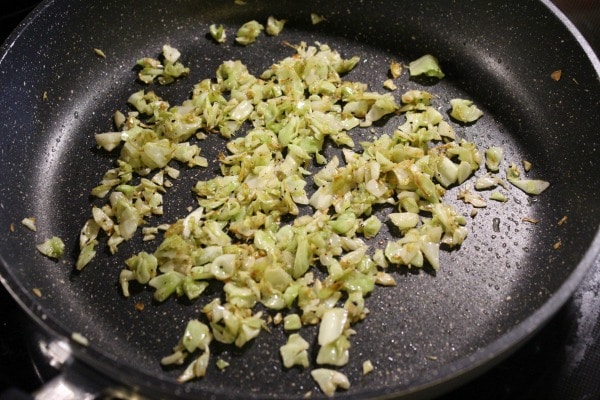 Adding the eggs...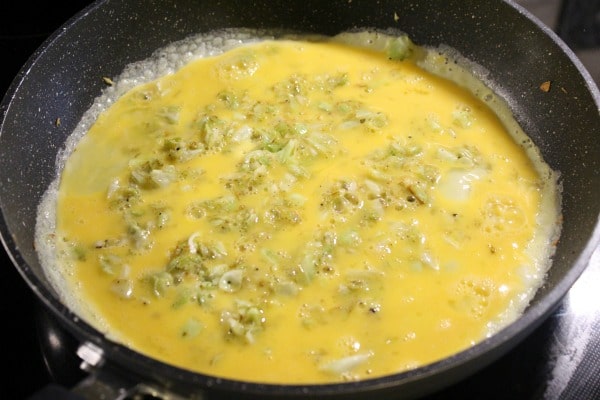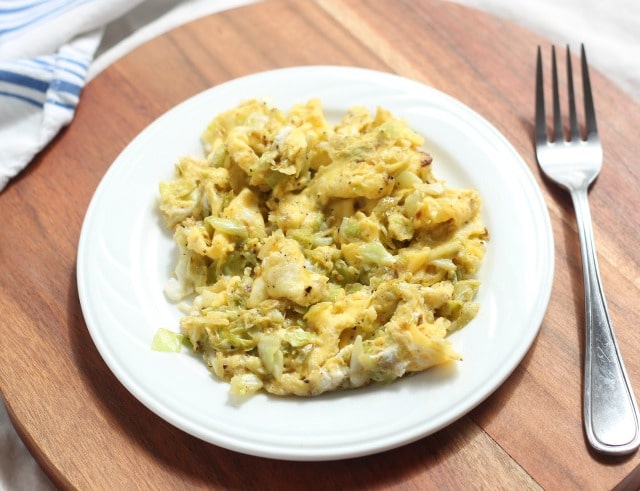 I hope you all have a happy Thanksgiving!
Shared with: Full Plate Thursday