How To Make Rice Milk - An easy method to create your own allergy-friendly milk using your favorite kind of rice. NO added oils or unnecessary ingredients.
I make multiple homemade milks each week, including Coconut Milk, Pumpkin Seed Milk and today's recipe.
The latter I make primarily for my daughters, Jade and Miki, who don't tolerate cow's milk very well.
I used to drink Rice Dream until I became skeptical of the added oils. The watery texture also left quite a bit to be desired!
Subscribe Now
Get new recipes delivered to your inbox
What I love about this recipe
NO added oils or preservatives - Store-bought brands add polyunsaturated fats, like sunflower, safflower, or canola oils to their milks, which can be inflammatory to the body.
I can control both sweetness and salt - I typically give this milk to Jade or Miki, so I'll add in a date to give it some sweetness!
It's thick and luscious! - I've yet to try a rice milk from the store that didn't resemble water. This recipe is thick and creamy!
Add in any flavor you like - Additions of vanilla, cinnamon, or even pie spice could jazz this up nicely.
How to make the best rice milk
Ingredients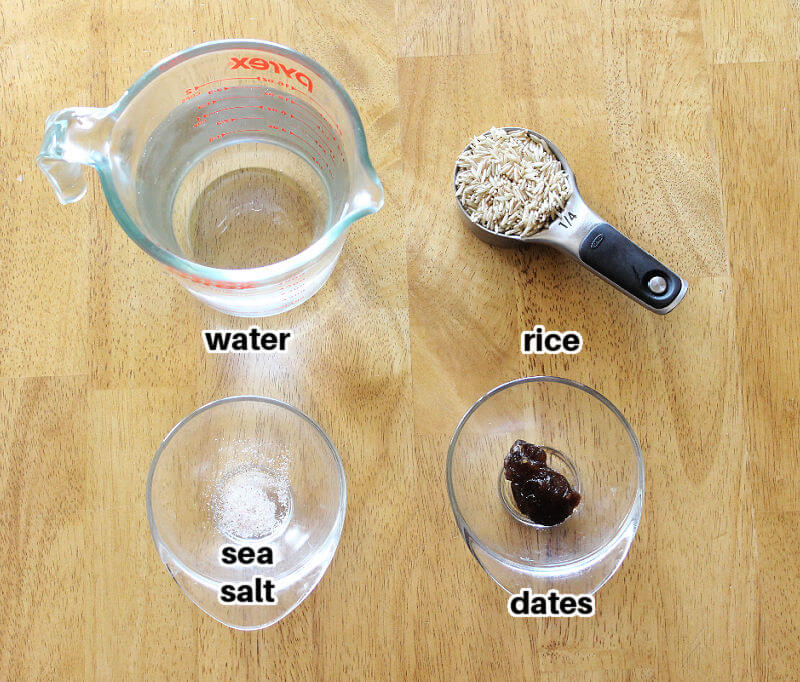 Recipe steps
Add the raw rice to a saucepan with water and bring it to a boil. Lower the heat and cook for three hours.
After the rice cooled, blend it with (or without) a date and a bit of salt.
Rice milk benefits
This easy recipe is not only thick and delicious, it's also allergy-friendly. Rice is one of the most tolerated foods for highly allergic individuals.
Low in both fat and calories.
Cheap to make! A quarter cup of rice is mere pennies, even when buying organic. Compare that to the four bucks you'd pay for a carton of Rice Dream.
NO nut milk bag needed. I just pour the final blended milk quickly through a sieve to catch any large bits.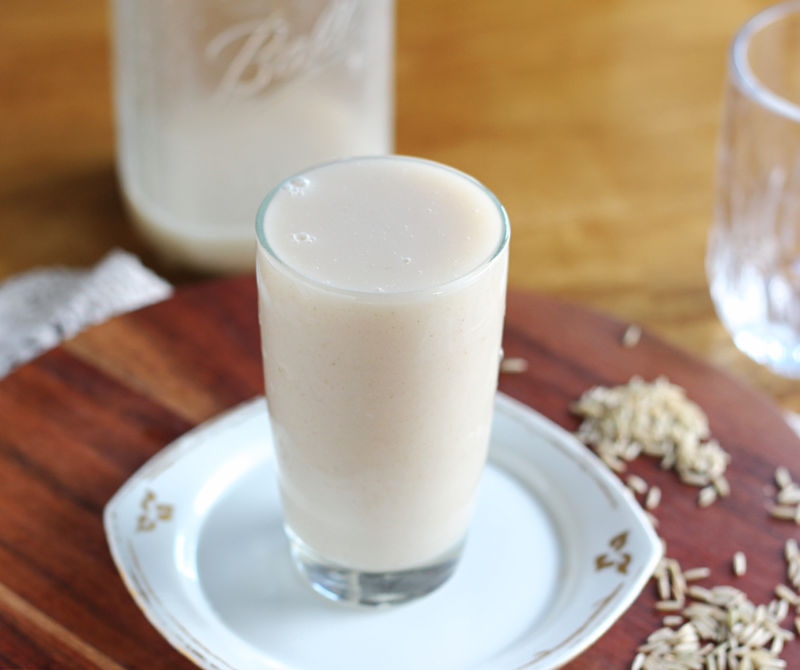 FAQs
What is the best rice to use to make rice milk?
I've tried pretty much every rice you can think of, and my personal favorite is short grain brown rice. It has more starch than the long-grain and yields a very thick and creamy milk! I've also had readers tell me that black rice works well.
What is the consistency like?
The consistency is of this milk is akin to full-fat soy or cow's milk.
Can I use rice milk like I would use regular milk in a recipe?
Yes, I've used this with success in pretty much every recipe. If you're going to use it in a savory recipe like mashed potatoes, I wouldn't sweeten it.
Can't I just blend cooked rice and water instead?
You can, but that's pretty much what it tastes like. I did an experiment here where I compared blending cooked rice and water with the method below, and the latter won, hands down. Try taking the time to make this and see!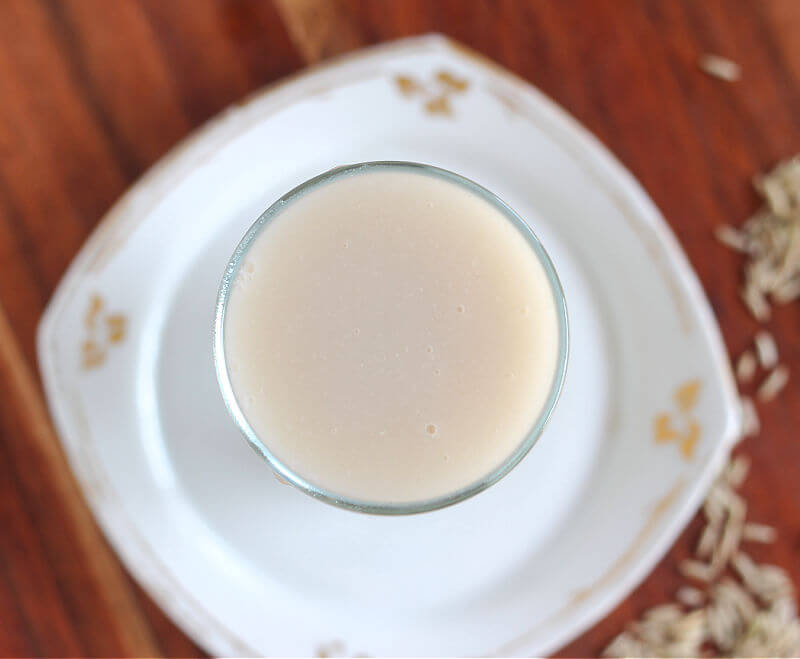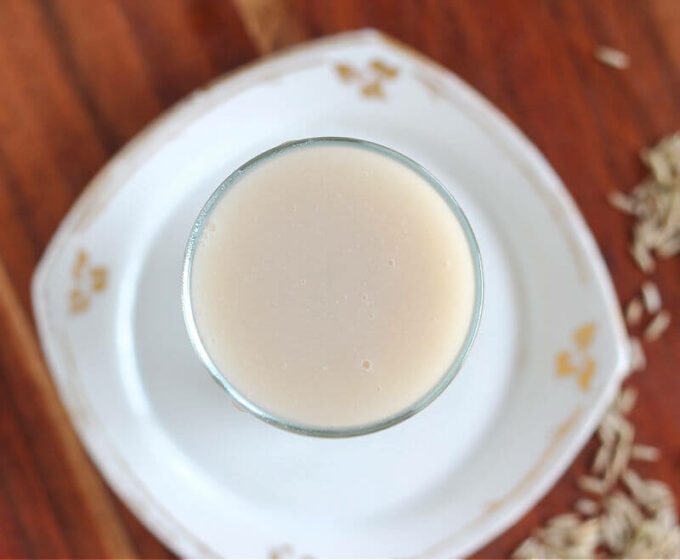 Recipes to use with rice milk
Smoothies are our favorite way to enjoy this dairy-free milk, but it also goes great atop a bowl of oatmeal or granola!
Jade's Chocolate Sunbutter Shake
Print Recipe
How To Make Rice Milk (Thick and Creamy!)
An easy method to create your own allergy-friendly milk using uncooked rice. NO added oils or unnecessary ingredients.
Ingredients
¼

cup

uncooked rice

see FAQs above for which rice to use

4

cups

water

⅛

tsp

sea salt

1

soft

date

optional
Instructions
Rinse and drain the rice very well.

Add the rice and water to a medium saucepan.

Bring the mix to a boil and let bubble for 10-15 seconds.

Reduce the heat to low, cover the pan, and let cook for three hours.

Remove the pan from the heat and let cool a bit.

Add the mixture to a high speed blender, along with the date (if using) and salt.

Blend on high for 30-45 seconds or until smooth.

Strain out any rice pulp by pouring the milk through a sieve (there shouldn't be much).

You can add a bit more water at this point if you want it thinner.

Chill and use as desired.
Nutrition
Calories:
49
kcal
|
Carbohydrates:
10.6
g
|
Protein:
0.9
g
|
Fat:
0.3
g
|
Fiber:
0.6
g
|
Sugar:
1.3
g
---
If you have a chance to try this recipe, please leave a star rating and a comment below letting me know how you liked it!
Shared with: Busy Monday, Inspire Me Monday