After many years of failed attempts, I'm sharing our favorite recipe for corn tortillas! These make delicious tacos and enchiladas and can be paired with other Mexican favorites, like rice and beans.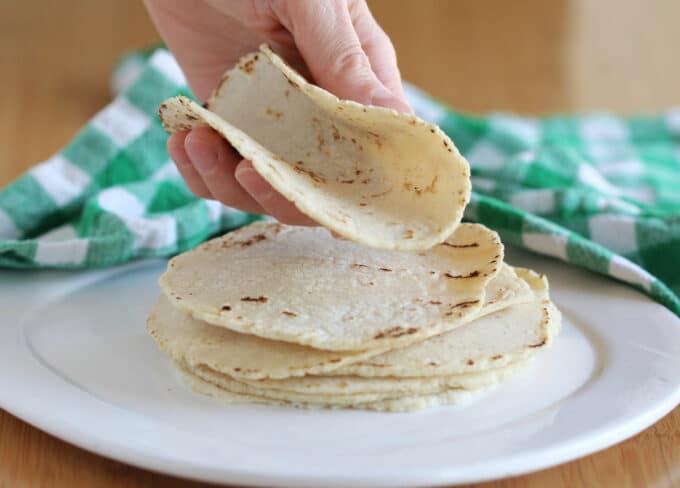 I love Mexican food! It's my favorite cuisine, and having lived in Arizona my whole life, I feel qualified to post a few related recipes.
In my earlier years, a good corn tortilla recipe eluded me. I never seemed to get it right!
Embarrassingly, my first attempt at them saw me using cornmeal instead of masa harina. Corn is corn, right? Uhhhh, NO.
Then, I struggled to find a really good brand of masa, and let me tell you, you NEED a good one to make delicious, restaurant-quality tortillas!
All of my hard-earned secrets and tips are included below in this post!
Ingredients needed
Masa harina - NOT cornmeal, folks, ha! Masa harina is a particular type of flour made from dried corn kernels that have been treated with a lime solution. Because I'm not an expert on how it's made, I'll link you to this article (if you're interested) titled, 'What Is Masa Harina?'. See below (My Best Tips!) for my favorite brand.
Sea salt - I've seen some sad amounts of salt included in a few tortilla recipes, but I find it more than necessary to have an adequate amount, otherwise, you're left with a very bland tortilla. On the flip side, most times tortillas are paired with cheese, which is salty itself, so you don't want to go overboard either.
Warm water - In my opinion, warm water is crucial for making any type of tortilla. It makes the dough easier to mix and work with.
How to make awesome corn tortillas
First thing is to mix the masa with the salt.
Then, begin slowly stirring in the water, beginning with about 2/3 cup. I typically use 3/4 cup for the brand of masa I purchase.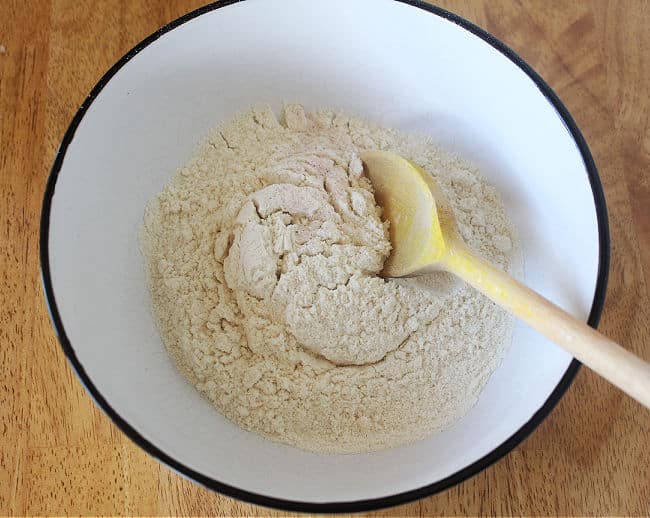 Use enough water to make a dough that is neither too dry nor too sticky.
Let the dough rest for 10-15 minutes, then, break it up into eight smaller dough balls.
Place a dough ball between two sheets of wax paper, plastic wrap, or a plastic produce bag (as shown in photos).
Using a tortilla press or rolling pin, press or roll them out until they are about five inches in diameter.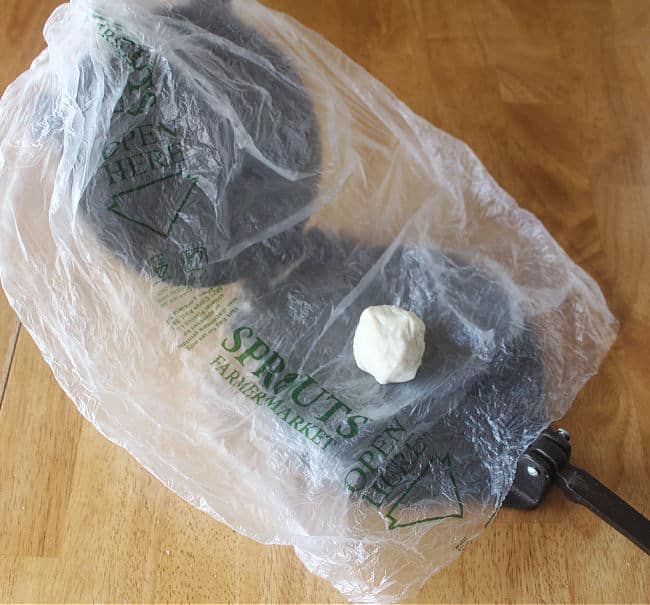 Place the tortilla onto a heated cast iron or non-stick skillet. Cook for about 30 seconds, then flip and cook for another 30-45 seconds.
Be sure to keep the cooked tortillas covered with a tea towel to keep them warm and soft!
My best tips!
Okay, here are my tips and tricks in order of execution.
Choose a GOOD masa harina <-- (my favorite!).
Use warm water when mixing.
Your mixed dough should be moist, but not sticky. This is a delicate balance and can take practice. Add a little more flour if too wet, and add a drop or two of water if too dry.
Let the dough rest for 10-15 minutes. The resting time allows the corn to soak and soften. This ultimately makes better tasting tortillas!
Use a plastic produce bag from the grocery store, wax paper, or plastic wrap to prevent the tortillas from sticking when being pressed or rolled out.
Once the tortillas are done, place them on a plate and immediately cover the plate with a tea towel. As you add more to the pile, be sure to replace the towel each time. This locks in the heat, keeping them soft and pliable!
More recipe notes
This is the tortilla press I use. It has worked great for me over the years.
If you'd like to flavor your tortillas, consider adding in some spices like chili powder, cumin, or oregano.
How use your tortillas
I have quite a few Mexican-themed recipes on the blog to help complete your meal. Some of our favorites include:
And if you're looking for a flour tortilla recipe, try my Spelt Flour Tortillas! They're a favorite with my family.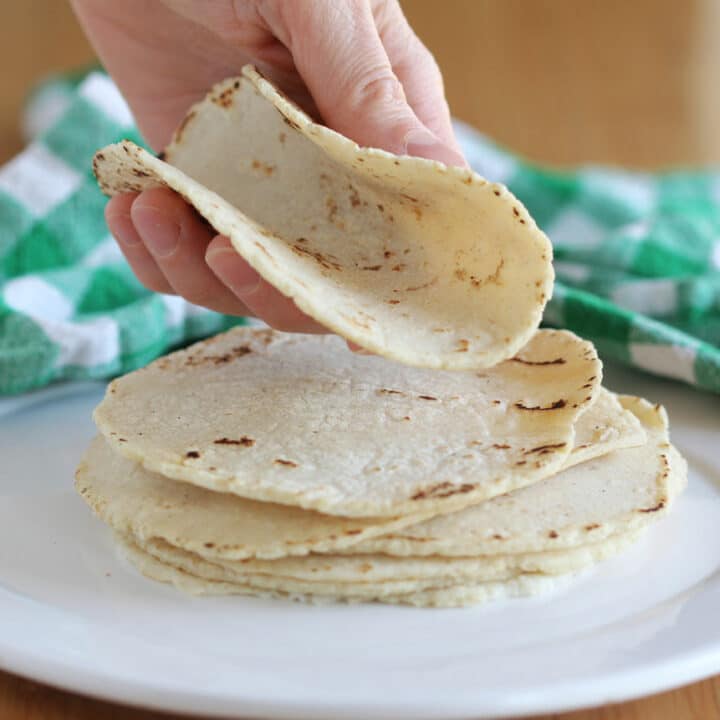 Print Recipe
How To Make Corn Tortillas
After many years of failed attempts, I'm sharing our favorite corn tortilla recipe! These tortillas make delicious tacos, and can also be used for enchiladas as well.
Ingredients
1

cup

masa harina

¼

teaspoon

sea salt

⅔ - ¾

cup

warm water
Instructions
Mix flour and salt in a large bowl, then begin adding warm water.

Stir until a soft dough forms, adding more water or flour as needed.

Cover the bowl with a damp tea towel and let sit for 10-15 minutes.

Divide dough into eight balls.

Place each ball between 2 sheets of plastic wrap, waxed paper, or a plastic produce bag. Roll into 5-inch round using a rolling pin or tortilla press. If the edges of the tortilla are uneven and crumbly, the dough needs a little more water. If the dough sticks and is very soft, add a bit more masa.

Repeat with remaining dough balls.

Heat a cast iron or large non-stick skillet over medium-high heat.

Lay a tortilla onto the skillet and cook until a bit stiff (about 30 seconds).

Flip and cook for another 30-45 seconds or until lightly browned. Don't cook too long or they will crisp and not be soft.

Place tortilla on a plate and cover with a tea towel to keep warm and soft.

Repeat this process will the remaining tortillas.
Notes
Weight Watchers points: 1
Nutrition
Calories:
52
kcal
|
Carbohydrates:
10.9
g
|
Protein:
1.3
g
|
Fat:
0.5
g
|
Fiber:
1.4
g
|
Sugar:
0.1
g
---
If you have a chance to try this recipe, please leave a star rating and a comment below letting me know how you liked it!