Happy Saint Patrick's Day! 🙂
Since I have a dash of Irish blood running through my veins, I though it'd be fun to highlight some delicious and healthy green recipes that you all might like to try!
Not entirely green, but close enough (and delicious enough) to make this list! This is my hubby's absolute favorite dessert, and I wouldn't kick it off my plate either.
A delicious and ridiculously healthy pesto that makes a great sandwich spread.
It's also delicious mixed in with warm spaghetti squash or atop any pizza crust you enjoy.
3. Healthier Low Carb Cheesy Broccoli Soup
With cauliflower as the 'cream' base, there's no reason to feel guilty about eating this...
It's cheesy, it's creamy, and it's less than 150 calories per bowl!
4. Baked BBQ Brussels Sprouts Chips
These crispy, crunchy vegetable chips give kale a run for their money!
If you enjoy BBQ flavors as much as I do, you'll love this lower calorie alternative to the traditional Lay's variety.
You may be seeing a pattern here with the Andes' mints...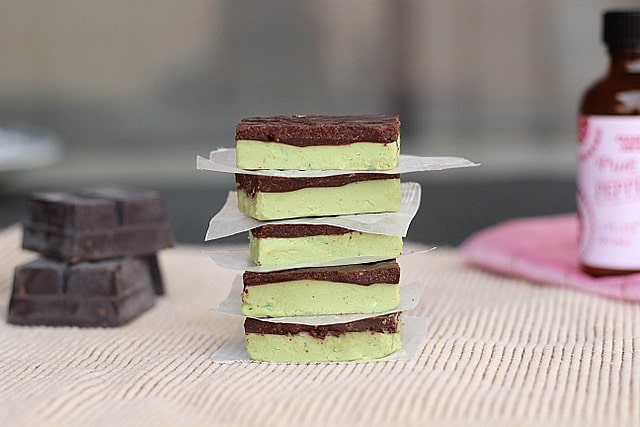 This version is a bit less arduous than the pie, and they make for a great little after-dinner treat!
I think I made these every week for a couple of months straight at one point. Nutritional yeast lends a 'cheesy' flavor, while maple syrup gives just a hint of complimentary sweetness.
7. Easy Slow Cooker Split Pea Soup
I love how filling and full of nutrition soups are, and this recipe is nothing less!
Complimented by flavors of rosemary and basil, this vegan version of split pea is more delicious than you can imagine!
One of my favorite treats and one of the most overlooked recipes on the blog, these ice cream sandwiches will NOT disappoint!
Avocado, maple syrup, and vanilla combine in this recipe to create a deliciously creamy alternative to dairy ice cream. The raw, chocolat-y cookies surround the nutritious filling and once frozen, make a simply irresistible treat!
What is your favorite green food?
The first answer that comes to mind for me is avocado. It's so versatile and so healthy for you!