This creamy kefir ranch dressing is so easy to make, and it will make your kids want to actually EAT their veggies!…at least mine did. 🙂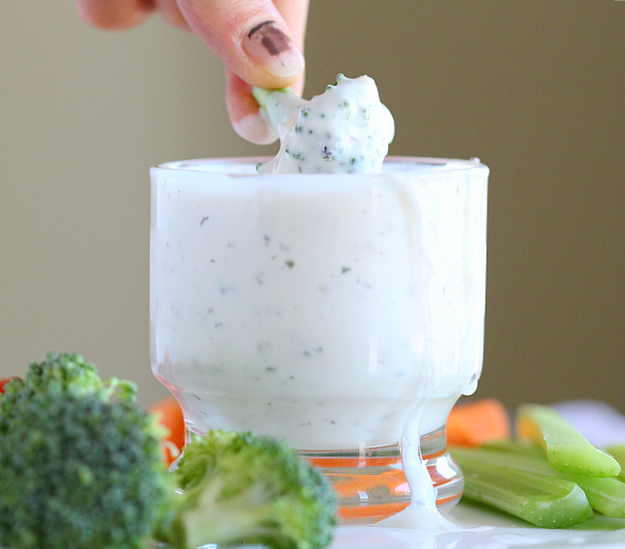 I probably go to the grocery store 2-3 times each week…is that nuts or what??
I buy a lot of fresh produce for salads and whatnot, so that's the preponderance of my purchases.
The other day, the kids and I were making our rounds, Sam loudly declaring he wants this or that, embarrassing me. Noticing they were out of the typical yogurt I buy for the girls, I instead picked up a bottle of kefir.
I've tried kefir in the past, but because it's a drinkable product, I often reach for the yogurt, as the kids like to eat it with a spoon and toppings for breakfast.
What's the difference between kefir and yogurt, you may be wondering?
I'm definitely no expert, but the greatest points for me are:
-Kefir is fermented longer than yogurt, resulting in more beneficial probiotics for the gut
-It's 99% lactose-free, making it easier for those with dairy allergies to digest
-Kefir has less sugar than yogurt (woohoo!)
Those are some pretty decent selling points, if you ask me!
Using kefir in recipes
Once I got the kefir home, I mulled over what to make with it….smoothie? Muffins?
Ultimately, I decided to give dressing a go. I had a ranch dressing on the blog some years back, but shortly after posting it, I took it off, feeling like it just wasn't 'up to par'.
This recipe, however, I love! Not only that, but the kids love it too!! The girls actually wanted MORE vegetables just so they could dip them into the dressing. If that's not a selling point, I don't know what is!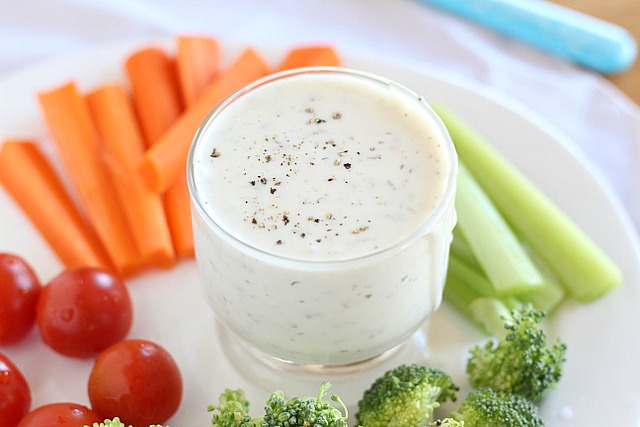 While I've only made this a couple of times, I was careful with measurements. I don't want anyone trying something I post here only to waste time or money. The only thing I can't guarantee is if you'll like the taste, lol!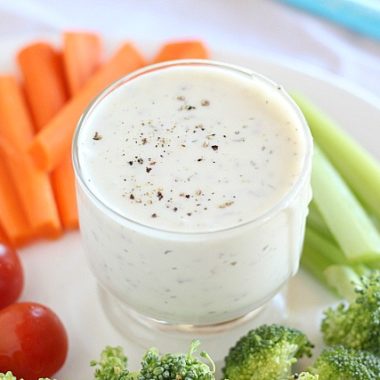 Print Recipe
Creamy Kefir Ranch Dressing
This creamy kefir ranch dressing is easy and quick to make, and it makes a delicious accompaniment to salads and raw veggies.

Ingredients
1/2

cup

kefir

(I use full-fat)

1

(rounded) Tbsp

mayo

(I use soy-free Vegenaise)

1/2

tsp

Dijon mustard

1

tsp

lemon juice

1

garlic clove

minced

1

tsp

shallot

minced

1/8

tsp

dried tarragon

1/8

tsp

dried dill

dash

sea salt

few

grinds

black pepper
Instructions
Stir everything together until well combined.


You can use it right away, but it tastes best if you let the flavors meld in the fridge for a bit.

Notes
Nutrition facts based on using full-fat kefir and regular mayo. WW SmartPoints: 2
Nutrition
Serving:
1
g
|
Calories:
37
kcal
|
Carbohydrates:
3.2
g
|
Protein:
1.2
g
|
Fat:
2.3
g
|
Fiber:
0.4
g
|
Sugar:
1.8
g
Notes:
This is the kefir I used:
Vegan mayo I use:
My most-used Dijon mustard:
Beauty-approved!