This homemade creamy Italian dressing is my family's absolute favorite dressing for any salad! It is made with healthy apple cider vinegar, and there's NO dairy or mayo.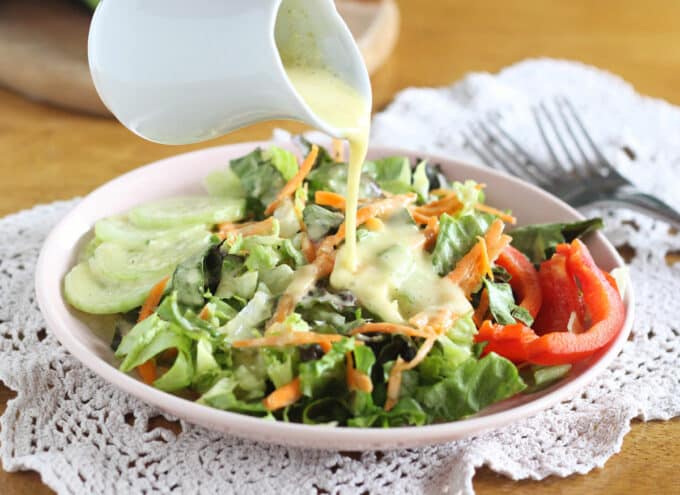 A good dressing recipe is crucial to enjoying salad. Let's be honest, that's what makes it worth eating!
If I didn't need to rotate my diet for the sake of food allergies, I would eat this dressing every day, with every salad.
The combination of ingredients, including apple cider vinegar, Italian seasoning, and Dijon mustard, compliments just about any combination of salad ingredients.
What's awesome is that my KIDS love this dressing as well!
Even my picky son, who doesn't easily eat a vegetable, asked, yes ASKED me to make him salad thanks to this delicious dressing!
Ingredients needed
You can easily scroll to the recipe to see the ingredients, but I wanted to tell you a bit why I like each ingredient.
Apple cider vinegar - The tang factor! In lieu of red wine vinegar or lemon juice, apple cider vinegar is my favorite acid to use, and it's got a laundry list of health benefits.
Good olive oil - Richness! I taste test all of the olive oil I buy, meaning I drink a good spoonful. My favorite is probably Bragg's Olive Oil, but it tends to be a bit pricey. The President's Reserve Olive Oil from Trader Joe's is my favorite cheap brand!
Mustard - Flavor and emulsification (AKA, thickness). I love mustard. I eat it like I drink olive oil.
Shallot - Flavor! I know shallot is sort of a specialized ingredient, but it really does contribute that somethin', somethin' to this. I've tried red onion as a stand in, and it just doesn't ring my bell the same way.
Garlic - Flavor! I never make a dressing without it, what can I say?!
Italian seasoning - Flavor! If you don't want the Italian flavor, leave it out. Good pinches of oregano and basil will suffice.
How to make the best creamy Italian dressing
If you watch the video below, you'll see how I measure the liquid ingredients in a small glass pitcher. I've found this to be the best way to do it!
First photo shows the apple cider vinegar (1/4 cup), second shot shows the addition of water, which comes to 3/4 cup, and the last photo is with the 3/4 cup of olive oil for a total of 1 1/2 cups total.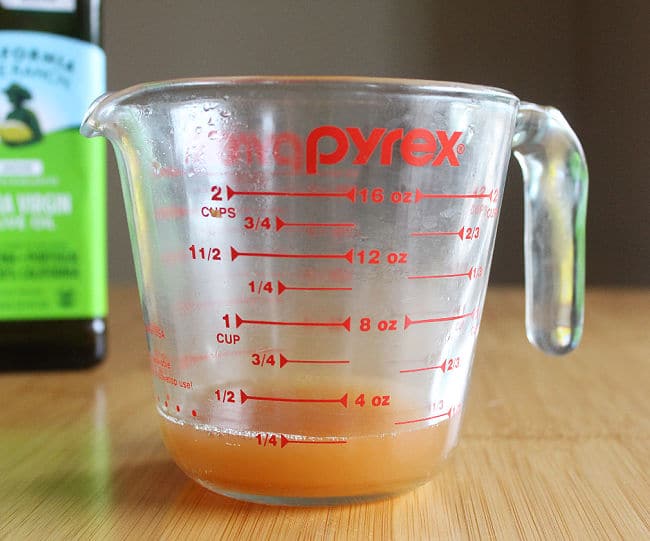 At this point, pour the liquid into a blender. I really love my Nutribullet or Vitamix for this job!
Add in everything else and blend until creamy and pale yellow.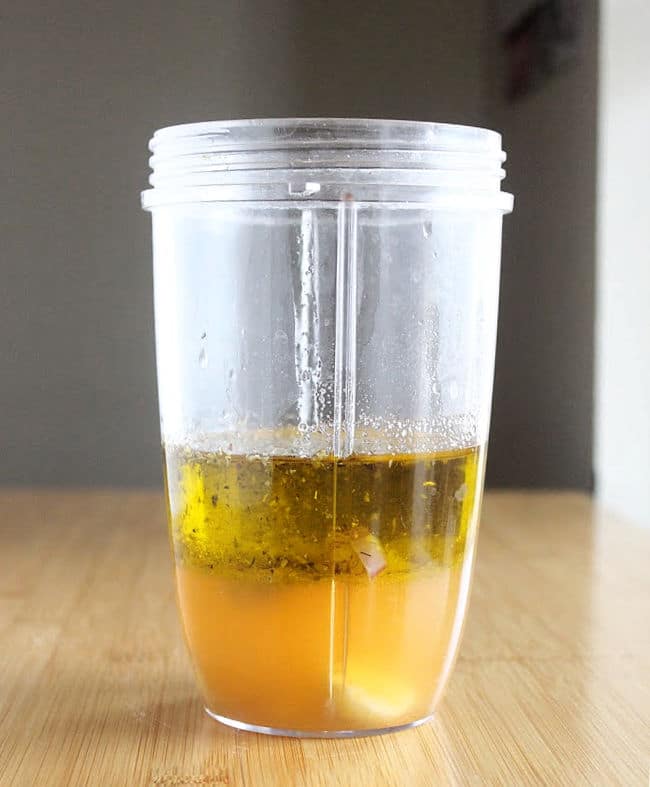 Recipe notes
Don't blend beyond 15 seconds, as you risk 'breaking' the emulsification.
The dressing tends to lose some of its creaminess the following days, so it can be re-blended to enhance the effect.
This is a tangy dressing. If you prefer sweeter dressings, you can try adding a teaspoon of honey to the mix!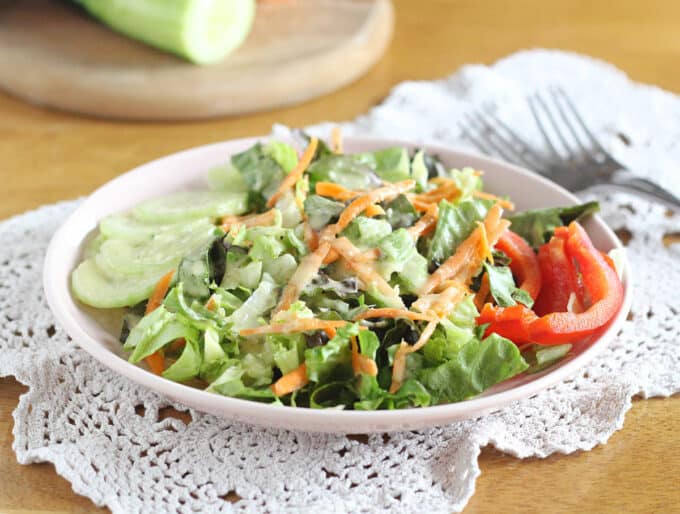 Other salad recipes you might enjoy
The Best Yogurt Ranch Dressing
All-In-One Bowl Salad and Dressing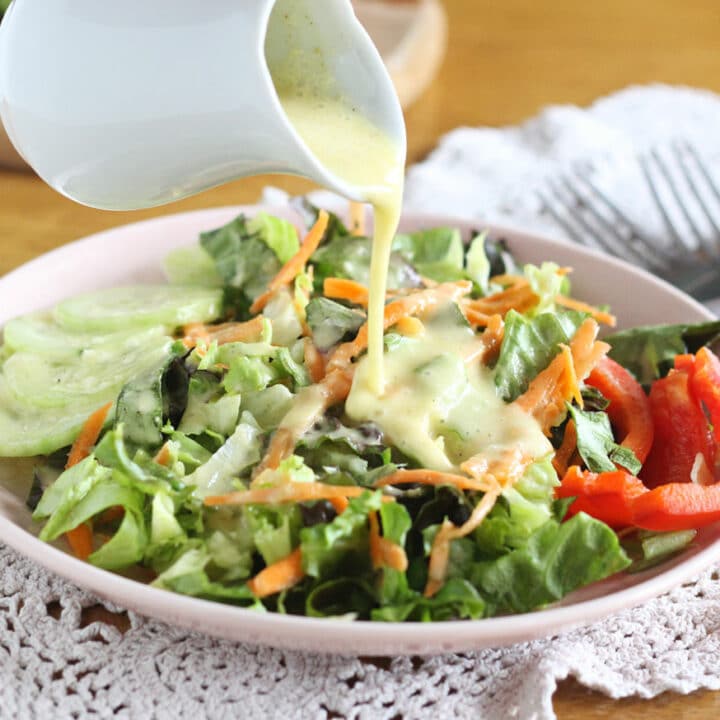 Print Recipe
The BEST Homemade Creamy Italian Dressing
This is my absolute favorite dressing for any salad, and it's dairy-free and sugar-free.
Ingredients
¼

cup

apple cider vinegar

½

cup

water

¾

cup

olive oil

1

Tablespoon

Dijon mustard

1

(heaping) teaspoon

Italian seasoning

½

teaspoon

sea salt

1

teaspoon

shallot

2

garlic cloves
Instructions
Blend all for about 10-12 seconds. It should be smooth and creamy!
Video
Notes
Weight Watchers points: 6
Nutrition
Calories:
168
kcal
|
Carbohydrates:
0.6
g
|
Protein:
0.2
g
|
Fat:
19.2
g
|
Fiber:
0.1
g
|
Sugar:
0.1
g
---
If you have a chance to try this recipe, please leave a star rating and a comment below letting me know how you liked it!