This healthy Chicken, Broccoli, and Brown Rice Casserole is made with a vegetable-based 'cream' sauce and makes a delicious dinner option!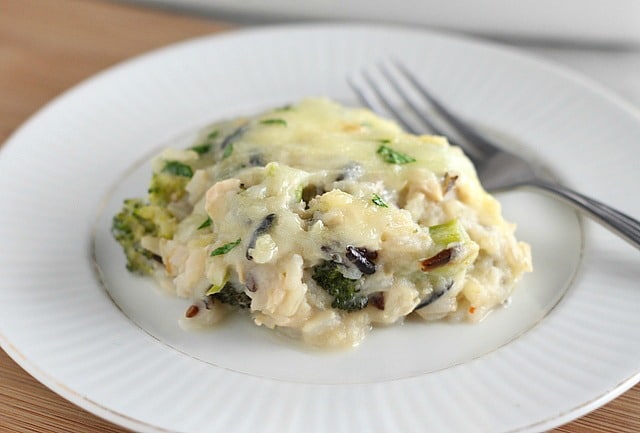 PHOTOGRAPHING CASSEROLES
Can I complain for a second and tell you how much I abhor taking pictures of casseroles?!
I can never get the right angle looking into the dish, and the plate shots often appear like a giant plop of who knows what! Grrrr....
On top of that, I went and made the ultimate food blogger folly...photographing this while hungry.
It was bad.
There were multiple curse words, which I let out freely since no one was home at the time, and poor Gus got an earful of my wrath when he stepped in front of me, nearly causing an even bigger mess.
Whoosh, I needed that vent!
Now that I've unleashed the negative, let's get to the positive...this delicious, albeit, unlovely, but delicious recipe!
THE ULTIMATE CASSEROLE
Chicken, broccoli, and brown rice...is there a more perfectly rounded, classic combination of foods? I think not!
I love casseroles, so I'm forever trying out different combinations of vegetables, meat, grains, and, of course, cheeeeeeese. 🙂
We make 1-2 whole chickens each week, so I almost always have leftover chicken in need of using. I'll typically use it in salads, stir-fries, and/or casseroles. Today's recipe came to me one night when I went to make this Leftover Chicken Casserole.
I wanted to put a different spin on it as well as make use of the bag of broccoli I'd bought from Trader Joe's.
Most casseroles have some type of cream sauce, so I thought I'd give my Onion Cream Sauce a try as a healthier replacement.
What resulted was absolutely scrumptious!
I made rice in my Instant Pot whilst the cream sauce simmered, and the broccoli roasted. Already having the cooked chicken on hand made putting everything together fairly easy, though there is some work involved in each individual component.
Top it all off with cheese, and you've got yourself a winner of a dinner, lol! 🙂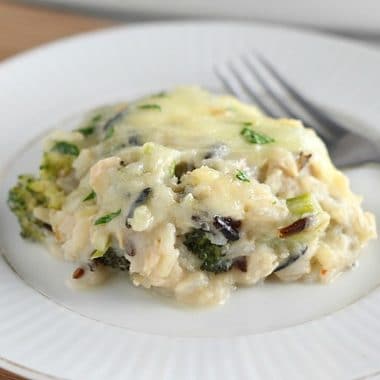 Print Recipe
Healthy Chicken, Broccoli, and Brown Rice Casserole
This healthier Chicken, Broccoli, and Brown Rice Casserole is made with a vegetable-based 'cream' sauce and makes a delicious dinner option!

Ingredients
RICE BLEND:
1 ½

cups

brown rice

uncooked; rinsed and drained

1 ¾

cups

water

(for Instant Pot; see Notes)
ONION CREAM SAUCE:
1

cup

water

2

large

yellow onions

sliced thin

2

large

garlic cloves

chopped

good dash

red pepper flakes

1

bay leaf

½

tsp

sea salt

1

Tbsp

olive oil

1

Tbsp

Dijon mustard
ROASTED BROCCOLI:
2

Tbsp

olive oil

12

ounces

broccoli

sea salt
CASSEROLE:
1-2

cups

cooked chicken

chopped

1-2

cups

cheese of your choice (I like using a white cheddar with some parmesan)
Instructions
RICE:
Begin by getting your rice cooking! I use my Instant Pot, if you don't have one, follow the instructions on your package. For the IP, add the rice and water to the pot and set it to cook for 22 minutes with a 10 minutes natural release.

ONION CREAM SAUCE:
Next, start the cream sauce.


Add the water, onions, garlic, red pepper flakes, and bay leaf to a deep pan or pot, bring to a boil, and lower to a simmer.


Cover the pan or pot and cook on medium low for 20 minutes until onions are very soft.


When it has finished cooking, remove the bay leaf and add the mix to a powerful blender along with the olive oil, salt, and Dijon.


Blend until smooth and creamy.

ROASTED BROCCOLI:
While the onions are simmering, preheat the oven to 375 degrees.


Toss the broccoli with the olive oil and some sea salt.


Spread the broccoli onto a parchment paper-lined baking sheet in an even layer.


Bake for 15-20 minutes or until the edges begin to brown.

ASSEMBLING THE CASSEROLE:
Keep the oven at 375 degrees once removing the broccoli.


In a 9 x 13 inch baking dish, layer in the cooked rice.


Add in your cooked and chopped chicken, the roasted broccoli, and the cream sauce.


Give everything a good mix until all is well coated in the sauce.


Top with your favorite cheese (I use raw white cheddar with a handful of grated parmesan).

Bake for 13-15 minutes or until it is bubbly and lightly golden.

Notes
Nutrition facts based on using 1 1/2 cups of cooked chicken and 1 1/2 cup of cheddar cheese. WW SmartPoints: 9
Nutrition
Calories:
291
kcal
|
Carbohydrates:
29.6
g
|
Protein:
15.3
g
|
Fat:
12.7
g
|
Fiber:
2.7
g
|
Sugar:
1.8
g
Notes:
As I said above, I use my Instant Pot to cook my rice to make it easier. Just add in the rice and water, manually set it to 22 minutes, and let it naturally release for 10 minutes. If you don't have an Instant Pot, follow the directions on your package.
I occasionally like to use a blend of 1 1/4 cups long-grain brown rice with 1/4 cup wild rice (which is what I did for these pictures). In that case, I set the Instant Pot to 25 minutes with a 10 minute natural release.
Some of the items I use in this recipe include:
Recipe Steps:
Cooking down the onions...
Blending the 'cream' sauce...
Prepping broccoli...
Assembling the casserole:
Rice...
Chicken...
Broccoli...
Sauce...
Mix it up!
Top with cheese...
Real life dinner shot!
Semi-professional plop shot...