Brown rice, vegetables, leftover turkey (or chicken), and cheese make this healthy and easy casserole that is delicious enough to make your weekly rotation!

THANKSGIVING 2019
I can't believe Thanksgiving is over! Bam, it's October...bam, it's Halloween...bam, it's Thanksgiving!
So much build up, and then it's just done!
This year, we had a modestly sized turkey (unstuffed), sides of mashed potatoes, mashed cauliflower, green peas, and two pies (one pumpkin, one chocolate meringue).
I'm still perfecting the chocolate meringue, which is why it hasn't made its way to the blog. Low sugar baking is tricky, and meringue definitely relies on sugar, so it has been an uphill battle.
Our turkey, however, turned out great! We don't go to any great lengths, as far as brining or the like, we just salt and bake!
WHAT TO DO WITH LEFTOVER TURKEY?
With the leftover turkey, I decided to use it in a casserole I've been making for years...quite literally, about ten years now.
It's a great way to get a healthy and delicious meal all in one, especially when you have leftover meat to use and various vegetables about to go bad.
There's no sauce or dominant flavor from any particular spice blend, it simply relies on the combination of rice, vegetables, chicken (or turkey), and a light topping of cheese.
I typically made this with leftover chicken, but instead used my remaining turkey pieces from Thursday, and it turned out fantastic!
Over the years, I've varied the vegetables, including such ones as celery, chard, okra, kale...pretty much anything that needed to get used! I've also employed quinoa in lieu of brown rice, which is a nice change when I'm craving it.
I use the cheeses that I tolerate best, like yogurt and raw or mild cheddars, but if you're in the mood for spice, pepperjack might be nice! White cheddar and parmesan is a good combo too.
Some of the directions below are 'loose' in terms of actual measurements, but this casserole isn't picky. Keep in mind your personal tastes and increase or decrease ingredients as you like. This really is a versatile dish and an economic one at that!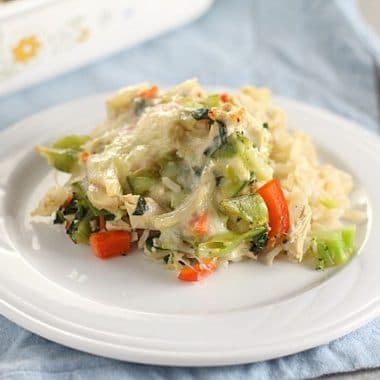 Print Recipe
Leftover Turkey (or Chicken) Casserole
Brown rice, leftover meat, vegetables, and a sprinkle of cheese combine to make this delicious casserole, a favorite that I've been making for years!

Ingredients
1

Tbsp

olive oil

½

yellow onion

chopped

3

garlic cloves

minced

½

red bell pepper

chopped

1

large

carrot

chopped

1

cup

snow peas

chopped

1

cup

broccoli

chopped

2

handfuls

fresh spinach

chopped

3

cups

cooked brown rice

(room temperature or freshly cooked)

2

cups

cooked turkey or chicken

cut into bite-size pieces

3

Tbsp

fresh parsley

~1/2

cup

vegetable or chicken broth

as needed

salt and pepper

to taste

1-2

cups

cheese of your choice

(I like white cheddar)
Instructions
Preheat your oven to 375 degrees after you chop your vegetables.


Heat the oil in a large stainless steel skillet.


Add in the onion, garlic, bell pepper, and carrot, along with some salt and pepper.


Cook 3-4 minutes, or until softened.


Add in the snow peas and broccoli, along with a good splash of broth to keep the veggies moist.


Once the green veggies have softened, stir in the spinach and cooked chicken or turkey.


Cook just until the meat is warmed and the spinach has wilted. Add a splash more broth if need be.


Finally, stir in the parsley and a bit more salt and pepper to taste.


In a 9 x 13 baking dish, spread the brown rice in an even layer.


Top with the vegetable/meat mixture.


Lastly, top the veggie mix with some of your favorite cheese.


Bake the casserole, uncovered, for 12-15 minutes, or until cheese is lightly golden.

Notes
Nutrition facts based on using cooked chicken breast and two cups of cheddar cheese. WW SmartPoints: 14
Nutrition
Calories:
467
kcal
|
Carbohydrates:
59.7
g
|
Protein:
24.3
g
|
Fat:
14.3
g
|
Fiber:
4
g
|
Sugar:
2.3
g
Notes:
For reference, one cup uncooked rice is equal to about three cups cooked. I like use my Instant Pot Brown Rice recipe to make my rice!
Though you can use any vegetables you like, over the years I've found that the above combination is my personal favorite!
This is a great casserole dish, and would make a nice gift for the cook/baker in your life!
Recipe Steps:
Heating the oil...
Add in the first round of veggies...
...second round...
Add in the chicken and spinach...
Layer in the rice...
...veggies/meat...
...and cheese...