I don't exactly have what you would call a 'green' thumb.
Being the nice guy that he is, my husband has routinely tried to buy me flowers throughout our relationship, and they always end up sad, wilting, and (unceremoniously) in the trash.
I honestly don't know what it is! I water them, put them in the sun, give them their little package of plant 'food', and they still shrivel up like raisins and die on me. It has gotten to the point that I tell my other half not to bother with them any longer, as I seem to have some sort of death touch.
Recently, however, I was on my way out of Trader Joe's, plastic container of fresh basil in hand, when I spotted some live, potted basil plants outside of the store.
The prices were comparable, and since the packaged stuff always seems to go bad if I don't use it all within a few days, I grabbed the healthiest of the sidewalk dwellers, and promptly exchanged the packaged variety for it's happy and vibrant parent.
That was about two weeks ago, and it's still going strong, which is very encouraging, considering I've always wanted to plant a little herb garden.
Given that I have fresh basil everyday, I've been going a bit nuts with putting it in recipes. Vegan Bolognese, spaghetti squash pizza casserole, warm quinoa and asparagus salad, and today's delicious cauliflower breadsticks (though it's really only an adornment here).
These breadsticks though...they are beyond delicious.
Most cauliflower base recipes call for cheese in the crust, which, even though I eat cheese, I've never appreciated for some reason. I like my cheese on top of the crust, if I use it at all. I also know some of you might be dairy-free and thus appreciate a version stripped clean of it.
The other ingredient I found to be key here, is the addition of baking powder. This little bit of leavening gives the recipe a bit of fluffiness, reminiscent of actual breadsticks.
My favorite way to top these is by brushing a bit of garlic-infused coconut oil on to the top and sprinkling it with some fresh basil and a bit of nutritional yeast, or by using some part-skim mozzarella and topping it with some fresh basil. Did I mention I have a lot of fresh basil? 🙂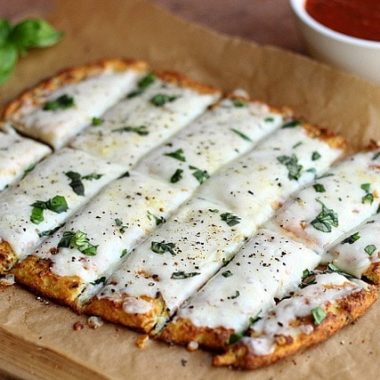 Print Recipe
Cheesy Cauliflower Breadsticks (Grain-Free)
Low carb and grain-free breadsticks made from cauliflower!

Ingredients
16

ounces

cauliflower florets

about 2 tightly packed cups of 'riced' cauliflower

¾

c.

water

1

egg + 1 egg white

1

T.

oil

I use olive

1

T.

oat flour

nutritional yeast, almond meal, OR parmesan (if NOT dairy-free)

¼

t.

sea salt

½

t.

baking powder

½

t.

dried oregano

½

t.

dried basil

⅛

t.

garlic powder
Instructions
Make your cauliflower rice by either grating the pieces using a cheese grater or pulsing the florets in a food processor until finely chopped.

In a small saucepan, bring the water to a boil.

Once boiling, add the cauliflower rice to the pan.

Turn the heat off (leave the pan on the burner), and cover the pan.

Let the pan sit covered for 10 minutes.

Preheat the oven to 400 degrees.

Remove the lid from the 'rice', and dump the contents into a fine-mesh sieve to drain a bit.

Transfer the cooked cauliflower from the sieve to a clean dish towel.

Wrap the cauliflower in the towel, and squeeze out the excess water (there will be quite a bit!).

In a bowl, mix the egg, egg white, oil, and remaining ingredients.

Add in the squeezed cauliflower.

Mix everything until well combined.

Pour the contents of the bowl onto a parchment paper-lined cookie sheet.

Using a spoon, spread the mixture out into the shape of a small rectangle (it should be about 1/2 of an inch thick).

Place the pan into the oven, and bake the breadsticks for 35-40 minutes, until golden.

Cut the breadsticks as you desire (I make 4-5 column slices and then one row slice right through the middle).

Top the breadsticks with cheese or other vegetables, as desired.

Replace the breadsticks, and bake for 5-10 more minutes until toppings have cooked through.

Remove the breadsticks, cool, and enjoy!
Notes
Nutrition facts are based on using olive oil and oat flour. These numbers DO NOT include any toppings. WW SmartPoints: 1
Nutrition
Calories:
29
kcal
|
Carbohydrates:
2.6
g
|
Protein:
1.6
g
|
Fat:
1.6
g
|
Fiber:
1
g
|
Sugar:
1
g
These are so scrumptious dipped into this Homemade Pizza Sauce!
My daughters and I literally ate these in about 10 minutes, they were so good!
This post is dedicated to my beloved basil plant...
...may it live long and prosper. 😀
Are you adept at growing plants or gardening?