This single serve protein buckwheat muffin is packed full of natural protein from ingredients like pumpkin seed meal and chia - Gluten-free, sugar-free, and vegan.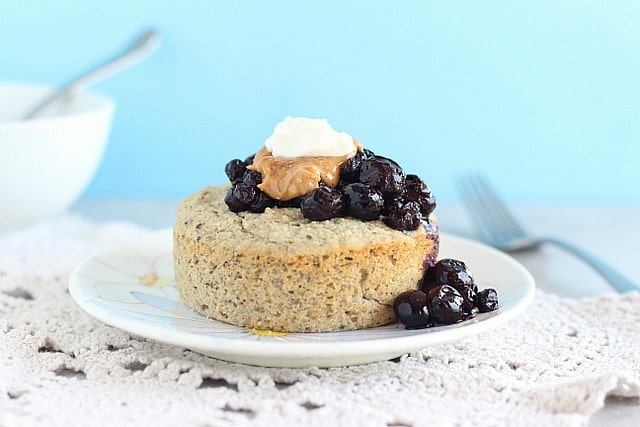 Why small batch?
You may wonder, as a mother of three, in a family of five, why I post so many 'small batch' or 'single serve' recipes?
A few reasons...
One, I like LOVE to bake/cook and experiment in the kitchen, and making smaller batch items gives me more opportunity to do that.
Two, my tastes vary daily. I'm not much of a leftovers girl when it comes to baked goods. I prefer my treats fresh, as I not only enjoy the taste more, but also the process.
Three, everyone in our home has different allergies and tastes! For example(s), Jade cannot have nuts, while the rest of us can...Sam hates peanut butter, and Nat is not a big meat eater.
Other more finicky preferences abound, and if I'm feeling generous, I'll indulge everyone, but oftentimes, 'you get what you get, and you don't throw a fit'!
How to make high protein muffins...without protein powder!
This muffin came about one morning after the kids ate an entire batch of my Apple Buckwheat Muffins.
Sam was still hungry, and I didn't want to make another whole batch of muffins, so I used the opportunity to experiment a bit with a higher protein, single serve muffin recipe.
I didn't want to add any sweeteners, thinking that if needed, I could drizzle some honey over the top. (That's a great trick for practicing lowering your sugar, by the way!) For the protein aspect, I added in a tablespoon of pumpkin seed meal (made by gently grinding raw pumpkin seeds in a coffee grinder or other processor), and a small amount of chia seeds.
This muffin came out simply delicious, and with around SIX grams of protein to boot!
I like how easy this is to customize as well. Sugar-free blueberry compote, peanut butter, and yogurt for me, butter and a honey drizzle for Nat and Jade, blueberry compote and yogurt for Sam.
It would make a great breakfast, if timed well (it takes about 25 minutes to bake), and you can easily bump up the protein content by topping it with nut or seed butter and/or yogurt.
Feel free to add in your favorite flavorings, like vanilla, cinnamon, or pie spice, but I like this one plain and simple as written!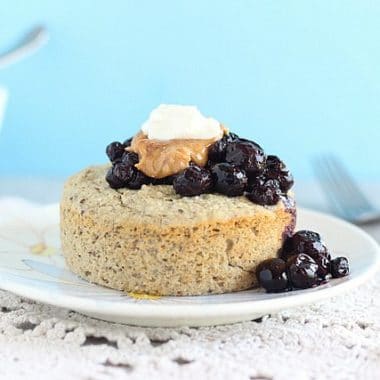 Print Recipe
Sugar-Free Protein Buckwheat Muffin
This single serve muffin is packed full of natural protein from ingredients like pumpkin seed meal and chia - Gluten-free, sugar-free, and vegan.
Ingredients
3

Tbsp

buckwheat flour

ground from raw groats (see Notes)

1

Tbsp

pumpkin seed or almond meal

1

tsp

chia seeds

¼

tsp

baking powder

good

dash

sea salt

¼

cup

applesauce

2

Tbsp

milk of your choice
Instructions
Preheat the oven to 350 degrees.


Mix all the ingredients together until well combined.


Add batter to a well-oiled, 6-10 ounce ramekin.


Bake 20-25 minutes, until top is springy. Don't overbake or it will become dry!


Let cool for a few minutes before removing.

Notes
Nutrition facts based on using unsweetened almond milk. WW SmartPoints: 6
Nutrition
Calories:
175
kcal
|
Carbohydrates:
26.5
g
|
Protein:
5.9
g
|
Fat:
6.5
g
|
Fiber:
4.8
g
|
Sugar:
6.8
g
Notes:
Use these raw buckwheat groats to make fresh buckwheat flour.
I like to use my Homemade Coconut Milk or Homemade Walnut Milk in this recipe.
Some of the items I use in this recipe include:
Recipe steps:
Stir the dry ingredients...
Add in wet ingredients...
Mix until well combined...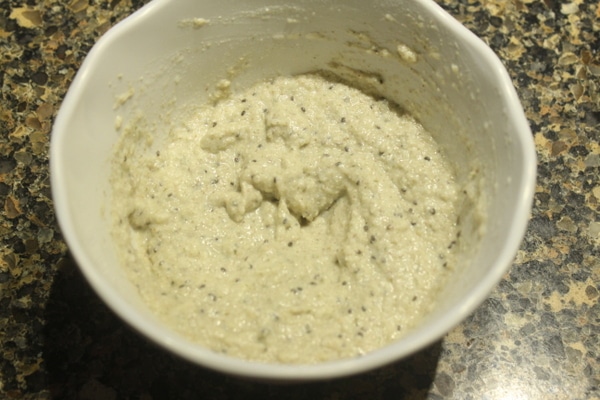 Pre-bake...
Post...