There are few times in a day where I feel totally content.
One recent moment happened this weekend.
I had completed my 'to-do' list for the day, and I was sitting in our family room, holding baby Sam in my lap, watching one Disney movie or another with my husband and girls, all while dinner was finishing up in the kitchen.
Most times, I have a constant revolving list of tasks to complete, rapidly firing away in my brain, so these rare, sanguine times are to be cherished.
As baby Sam nears three months, I am even more aware of the need to treasure the little things. He is smiling up a storm lately, and it melts my heart to see him grow and get more handsome each day...
I look forward to finding out more about him!
What kind of music will he like? Will he play sports like daddy? Will he prefer Superman to Batman?...and, of course, what kind of food will he most enjoy??
If it's anything like what I craved when I housed him, he will love eggs, sardines, and anything chocolate!
All kids love sweets, don't they? If left to their own devices, my daughters would surely gorge themselves on anything and everything dessert, and I'm guessing most kids would do the same.
I have a pretty strong sweet tooth myself, so it always helps to have a little something hiding in the freezer for treat attacks!
Ever since discovering that I could eat cookie dough healthfully, I've been a bit obsessed with the idea, creating things like these Chocolate Chip Cookie Dough Balls or these Nut-Free Candy Bars. These Peanut Butter Cookie Dough Squares are also a favorite, and this Cookie Dough Cereal is healthy enough for breakfast!
My latest 'cookie dough' creation involves one of my favorite foods: pumpkin seeds.
I love these little treats because they're low in sugar and nut-free, so everyone in the house can enjoy them!
They make a great addition to my hubby's diet as well, as pumpkin seeds are full of good stuff to keep his man parts working well. 😉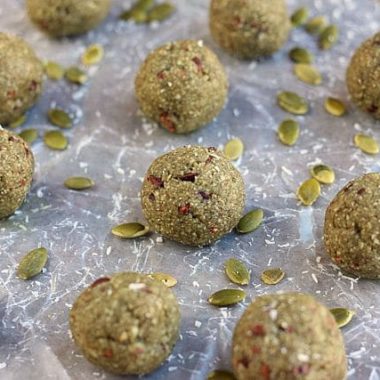 Print Recipe
Pumpkin Seed Flour Cookie Dough Bites (Nut-Free, Low Sugar)
Healthy, raw cookie dough bites made with ground pumpkin seeds!

Ingredients
2

c.

raw pumpkin seeds

½

t.

baking soda

¼

t.

sea salt

pinch

powdered stevia extract

2

T.

coconut oil

melted

1

T.

pumpkin seed butter

see notes

1

T.

raw honey or maple syrup

2

t.

vanilla

2

T.

dairy-free milk

cacao nibs

as desired (see notes)
Instructions
Process the pumpkin seeds until flour-like.

Pulse in the baking soda, salt, and a dash or two of stevia.

Add in the oil, butter, honey or syrup, vanilla, and milk.

Process until well combined.

Pulse in a handful of cacao nibs, if desired.

Roll into balls and freeze.

Keep cold for best results.
Notes
Nutrition facts are based on using unsweetened almond milk and no cacao nibs. WW points (new system): 3
Nutrition
Serving:
1
|
Calories:
114
kcal
|
Carbohydrates:
4.6
g
|
Protein:
5.2
g
|
Fat:
9.2
g
|
Saturated Fat:
1.8
g
|
Polyunsaturated Fat:
7.4
g
|
Sodium:
74
mg
|
Fiber:
0.8
g
|
Sugar:
1.3
g
Notes:
I use this raw pumpkin seed butter for these, but you can use any nut or seed butter you tolerate. Keep in mind, the flavor will change with your choice.
I personally add in about 2-3 tablespoons of raw cacao nibs, as I love the bitter crunch they add!