These delicious, low sugar oatmeal and rice flour cookies are a great way to give allergic kids (or adults) a tasty, gluten-free treat!
Making tasty recipes that are healthy, gluten-free, AND low in sugar can be difficult to achieve.
These cookies, however, made the cut with everyone here! All of my kids love them, making for one delighted mama.
This recipe makes a small batch (about five cookies), but it can be doubled.
Jade always says, "why do you only make FIVE cookies, mama?!", hehe.
I don't entirely know, but they are delicious!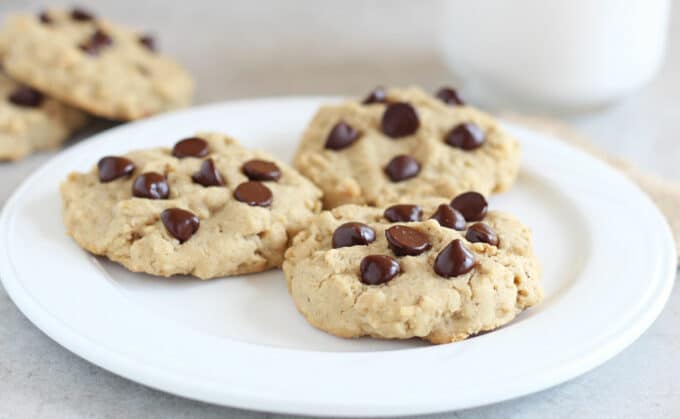 Is rice flour good for baking cookies?
Rice flour can be used much the same way as all-purpose flour. I like the taste and texture it brings to a cookie recipe, as it adds a 'crisp' to the treat.
The biggest downfall with rice flour is that it doesn't bind very well.
That's not an issue with this recipe, however, because the combination of egg yolk and peanut butter holds the cookie together nicely.
What's the difference between brown rice flour and white rice flour?
I always want the flour that will give me the most nutrition, NOT the white stuff. I only use brown rice flour, as it has more fiber and nutrients.
The upside of both flours is that they are gluten-free, which is important if you're making these for someone who is sensitive.
The downside to rice flour, in general, is that it is higher in carbs and calories than some other choices. While gluten is almost universally shunned among health advocates, it is a rich source of protein that you won't receive using non-gluten flours.
Ingredients needed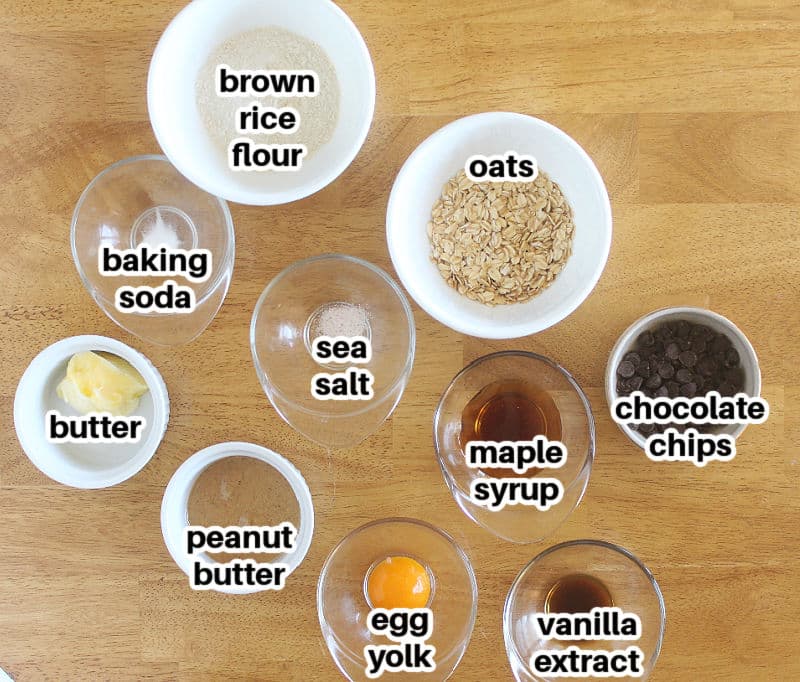 Rice flour - I like to use brown rice flour, but white rice will work as well. White rice is a bit higher in carbs and less nutritious.
Oats - Rolled or quick oats both work well. I'd say the quick oats disperse the texture a bit better.
Baking soda - Helps the cookies bake and puff.
Sea salt, vanilla extract - Both ingredients add to flavor.
Butter, peanut butter - These fats offer richness to the cookie. If peanut butter isn't tolerated, try a nut or seed butter that you can eat (and like!). If you use Sunbutter, the cookies will take on a green color, fyi!
Maple syrup - This is the cookie's sole source of sweetness. Don't substitute a granulated sugar or the cookie will be dry. (Note: These cookies are modestly sweet.)
Egg yolk - Helps to bind the cookie together and offers nutrition. I love adding egg yolks to my smoothies, as it makes them nice and thick! I think a tablespoon of Greek yogurt or applesauce (per readers' suggestions) would make a decent substitute.
Of course, you'll also add chocolate chips, though I often chop up a dark chocolate bar instead.
How to make rice flour cookies
Mix the dry ingredients in one bowl and the wet ingredients in a separate bowl.
Stir everything together until a batter forms. Divide the batter into five equal cookies and place the dough onto a parchment paper-lined baking sheet.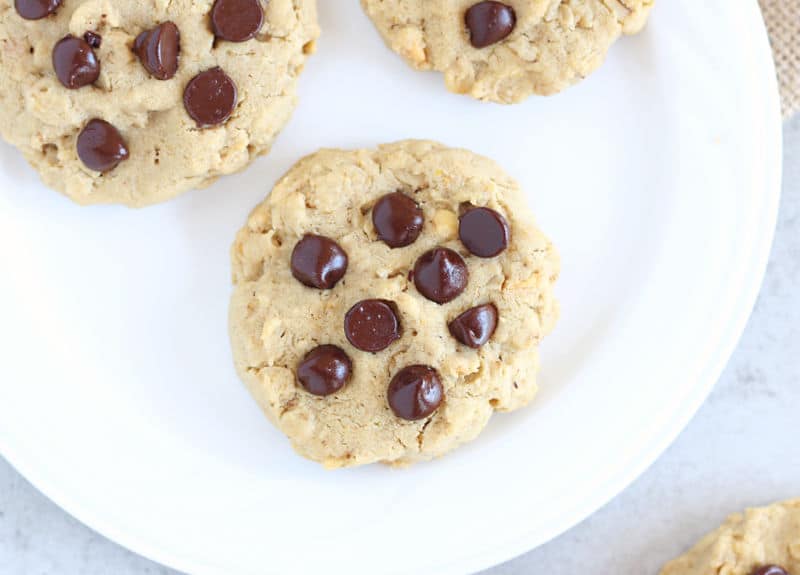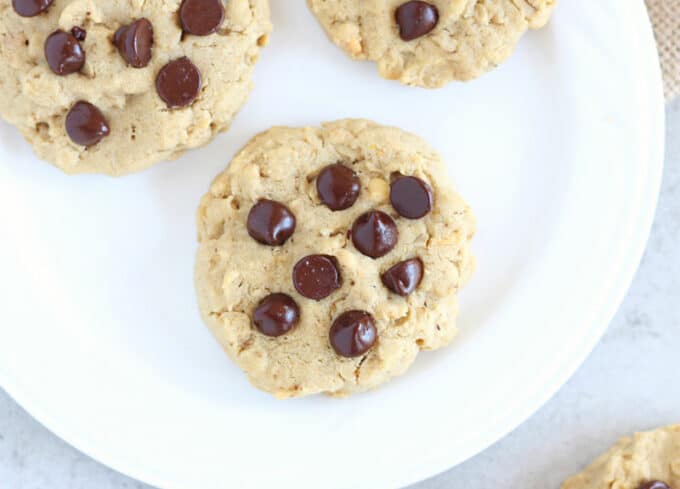 Recipe notes
I have tried doubling this recipe by using a whole egg (in lieu of two egg yolks). The result is still good, though I like the egg yolk version more. Using the entire egg makes the cookie a bit softer and takes about 1-2 minutes longer to bake. I would add two yolks if you're looking to recreate the exact cookie. You can use the leftover whites to make an Egg White Omelette!
If you're looking for a good baking sheet, these stainless steel pans are awesome and non-toxic.
Other cookie recipes
One of my personal favorites is this Low Sugar Chocolate Chip Cookie recipe.
If you like the idea of using multiple grains, you might enjoy this Multi-Grain Cookie recipe (it's Sam's favorite!).
Looking for a nut-free, gluten-free, AND dairy-free cookie? Try Jade's all-time favorite cookie!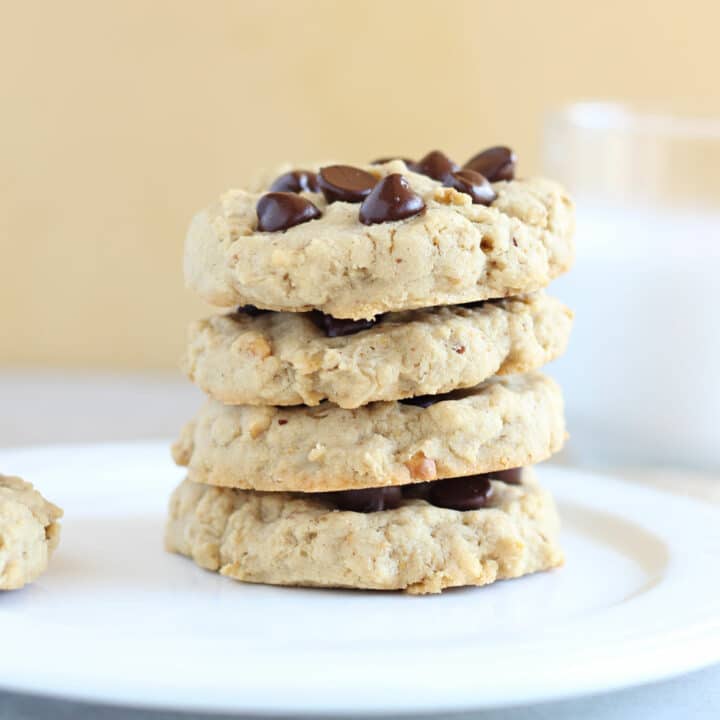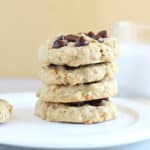 Print Recipe
Oatmeal and Rice Flour Cookies
This delicious, low sugar oatmeal and brown rice flour cookie recipe is a great way to give allergic kids (or adults) a tasty, gluten-free treat!
Ingredients
DRY INGREDIENTS:
¼

cup

brown rice flour

¼

cup

oats (rolled or quick)

⅛

tsp

baking soda

⅛

tsp

sea salt
WET INGREDIENTS:
2

Tbsp

softened (not melted) ghee or butter

1

Tbsp

peanut butter

1

Tbsp

maple syrup

1

large

egg yolk

1

tsp

vanilla extract

chopped chocolate or chocolate chips

as desired
Instructions
Preheat oven to 350 degrees.

In a bowl, whisk the wet ingredients: ghee (or butter), peanut butter, maple syrup, yolk, and vanilla until smooth.

In a smaller bowl, mix the dry ingredients.

Add the dry mix into the wet ingredients bowl and stir until well combined.

Stir in the chocolate, if using.

Line a baking sheet with parchment paper.

Divide the dough into five equal-sized cookies and place them onto the baking sheet.

Bake 8-10 minutes or until lightly golden.

Cookies are best once cooled completely (they hold together the best, too!).
Notes
Nutrition facts based on using butter and 1/4 cup chocolate chips.
Weight Watchers points: 7
Nutrition
Calories:
172
kcal
|
Carbohydrates:
17.3
g
|
Protein:
3.1
g
|
Fat:
10.1
g
|
Fiber:
1.3
g
|
Sugar:
7.3
g
---
If you have a chance to try this recipe, please leave a star rating and a comment below letting me know how you liked it!