These delicious, low sugar brown rice flour and oatmeal cookies are a great way to give allergic kids (or adults) a tasty, gluten-free treat!
Childhood allergies
From the moment Jade was born, she was itchy.
Her allergies were a constant source of stress for me, as everything seemed to bother her! It made sense, though, because prior to my becoming pregnant with her, I was allergic to everything.
My health was drastically improved by pregnancy, so much so that I was in daily awe.
I asked my naturopath about my newfound ability to eat nearly anything, and he explained to me that my immune system had lowered so as to not attack the growing baby.
I couldn't believe my luck, but after she was born, I realized that many of my issues had been passed on to her. She was my savior, in a sense!
Her early years were marked by continual bouts of eczema and digestive problems. Now that she's approaching ten, however, she is much improved!
Before, snacking on a banana would send her into an itching frenzy, and now she pretty much eats them with no issue.
While she is better, I still try to limit those foods that I know give her the most trouble. One of them is gluten.
She can have it a couple times a week without symptoms, but beyond that can be problematic.
Gluten-free cookies that are also low in sugar
Making tasty recipes that are healthy, gluten-free, AND low in sugar can be difficult to achieve. These cookies, however, made the cut with everyone here!
All of my kids love them, making for one delighted mama.
This recipe makes a small batch (about five cookies), and honestly, I've not tried doubling it! Jade always says, 'why do you only make FIVE cookies, mommy?!', hehe. I don't entirely know, but they are delicious!
P.S. If you're looking for a nut-free, gluten-free, AND dairy-free cookie, try Jade's all-time favorite cookie recipe!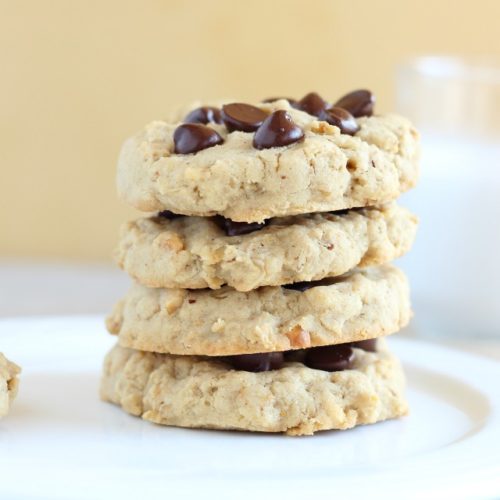 Print Recipe
Rice Flour and Oatmeal Cookies
This delicious, low sugar brown rice flour and oatmeal cookie recipe is a great way to give allergic kids (or adults) a tasty, gluten-free treat!
Ingredients
DRY INGREDIENTS:
¼

cup

brown rice flour

¼

cup

oats (rolled or quick)

⅛

tsp

baking soda

⅛

tsp

sea salt
WET INGREDIENTS:
2

Tbsp

softened (not melted) ghee or butter

1

Tbsp

peanut butter

1

Tbsp

maple syrup

1

large

egg yolk

1

tsp

vanilla extract

chopped chocolate or chocolate chips

as desired
Instructions
Preheat oven to 350 degrees.

In a bowl, whisk the wet ingredients: ghee (or butter), peanut butter, maple syrup, yolk, and vanilla until smooth.

In a smaller bowl, mix the dry ingredients.

Add the dry mix into the wet ingredients bowl and stir until well combined.

Stir in the chocolate, if using.

Line a baking sheet with parchment paper.

Divide the dough into five equal-sized cookies and place them onto the baking sheet.

Bake 8-10 minutes or until lightly golden.

Cookies are best once cooled completely (they hold together the best, too!).
Notes
Nutrition facts based on using butter and 1/4 cup chocolate chips. WW SmartPoints: 7
Nutrition
Sugar:
7.3
g
|
Fiber:
1.3
g
|
Calories:
172
kcal
|
Fat:
10.1
g
|
Protein:
3.1
g
|
Carbohydrates:
17.3
g
Notes:
To reiterate, I have not tried doubling this recipe, so do so at your own risk. Some recipes are a bit fickle, in that they don't work as well after being multiplied. I have it in mind to do this, and if I do, I will update my results here.
If you're looking for a good baking sheet, I've been happy with these from the Food Network line.
Some of the items I use in this recipe include:
Recipe steps:
Mixing the dry ingredients...
Mixing the wet ingredients...
Stir all...