I used to be obsessed with the music group, The Mamas and the Papas.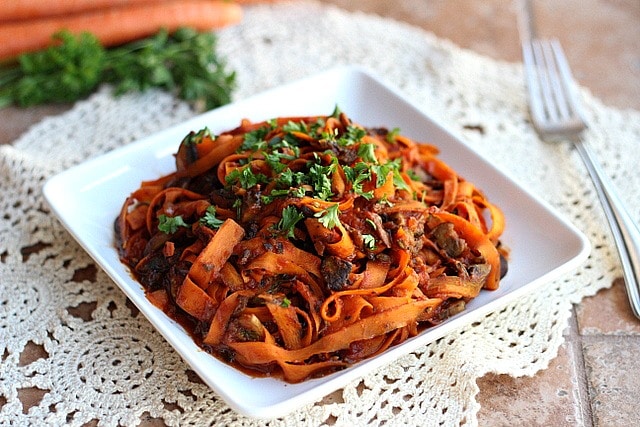 I would play their music endlessly, stare at their album covers, and hopelessly try to style myself after the gorgeous Michelle Phillips. I tend to go in phases with my obsessions in all areas of life, not the least of which is food.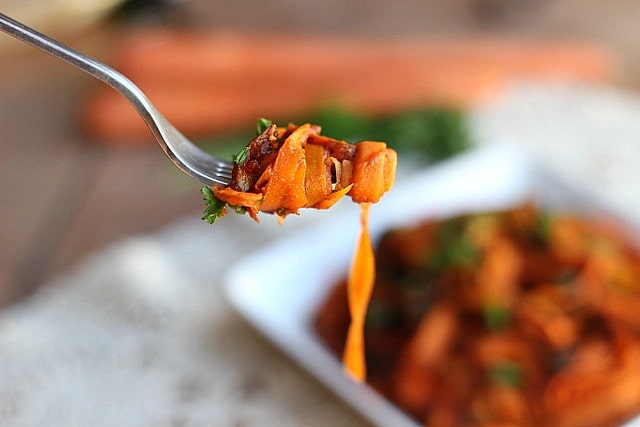 My current fixation is this carrot spaghetti. I made it one night when my fridge was near empty, and I wanted something quick, easy, and full of vegetables. It was so scrumptious, and it has become my new go-to meal.
I posted about it in one of my recent 'What I Ate Wednesdays', and since a few of you expressed an interest, here is the delightfully simple and delicious recipe.
I like to use my Easy and Healthy Pizza Sauce in this, but you can use whatever sauce is your favorite.
Though I own a vegetable spiralizer, I use this vegetable peeler to make ribbons out of my carrots. I like to cook my carrots closer to five or six minutes so that they retain an 'al dente' bite, as opposed to being on the mushy side.
Though the Mamas and the Papas have found their way into my cranial archives, this spaghetti is sure to be around for a long time to come!
What have you ever been obsessed with?
Aside from the popular 60s quartet, I've also been crazy for Picasso, empire waist dresses, and crossword puzzles.
Shared with: Healthy Vegan Friday, Real Food Wednesday, Healthy 2day, Slightly Indulgent Tuesday, Fat Tuesday
Tagged: Carrot, Dairy-free, Gluten-free, Grain-free, Healthy, Paleo, spaghetti, Sugar-free, Vegan, Vegetarian