The title is quite the proclamation, but I stand by it!
I've seen a few variations of these cookies floating around the web and finally had to try them.
OMG. I'm totally not the type to say or write or even think 'OMG', but OMG.
These are the best gluten-free, grain-free, paleo, chocolate chip cookies…ever…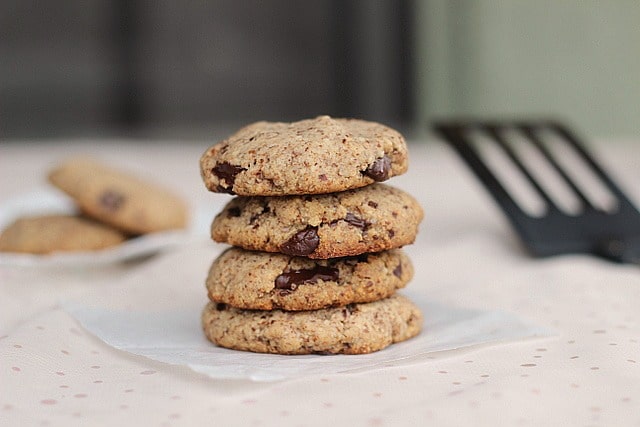 I have to say, though, what makes them so great for me is the fact that they require so little sweetness to be really stellar.

The Best Paleo Chocolate Chip Cookies Ever
Ingredients
1 c. almond meal
scant ¼ t. sea salt
⅛ t. baking soda
¼ t. cinnamon, optional, but delicious!
3 T. coconut oil or butter, melted
2 T. honey or maple syrup
1½ t. vanilla
½-1 t. water, only if/as needed
2-4 T. chopped dark chocolate, depending on your personal preference (I used 3 T.)
Instructions
Preheat the oven to 350 degrees.
Mix the almond meal, salt, baking soda, and cinnamon.
Stir in the coconut oil, honey/maple syrup, and vanilla.
Add in water as needed to bring everything together.
Stir in the chopped chocolate last.
Bake for 10-11 minutes on a well oiled or parchment paper-lined cookie sheet (the edges should be golden).
Let them sit on the pan for 5-10 minutes (they firm up during this time, so this is an important step!).
Remove and enjoy!
Notes
Nutrition facts are based on using maple syrup, coconut oil, and 4 tablespoons of dark chocolate. Weight Watchers points (new system): 4
Nutrition Information
Serving size:
1 cookie
Calories:
139
Fat:
11.2 g
Saturated fat:
5.3 g
Unsaturated fat:
5.9 g
Trans fat:
0 g
Carbohydrates:
8.2 g
Sugar:
5.6 g
Sodium:
71 mg
Fiber:
1.5 g
Protein:
2.6 g
Cholesterol:
1 mg
Adapted from
this recipe
I got about 9 smallish cookies from this dough, but feel free to make them as big (or small) as you desire!
These have a buttery, modestly sweet taste that's complimented perfectly by the dark chocolate. The cinnamon gives it a little spice that pairs well with all of the other ingredients.
These are delicious right out of the freezer, if you like your cookies cold like me. 😀
I hope you all take some time this weekend to give these cookies a try! 🙂
Shared with: Allergy-Free Wednesday, Real Food Wednesday, Whole Foods Wednesday, Gluten-Free Friday, Gluten-Free Wednesday
UPDATE: For those of you with almond or nut allergies, I have successfully made these with sunflower seed meal (using the same amount), and they have turned out great!