Today, I'm feeling the first signs of Fall here in Tucson.
A storm blew in this afternoon and dropped the temperature to a comfy 80 degrees or so.
Trust me, here in Tucson, that is comfy.
With the weather change typically comes an emotional change within me. Ever since my dad passed away, I'm much more conscious of how I feel, and I tend to become pensive and nostalgic with little provocation, particularly, when it begins to cool off.
I start to think of shorter days, Thanksgivings long past, dutifully trekking out with my mom and dad to buy a Christmas tree, and tons of presents under our ill-begotten fir.
My dad used to have two weeks off every year for Christmas and New Year's, a time I always looked forward to.
We would often spend time together buying presents, playing games, renting movies, or going shopping together, just him and me.
One of our favorite places to shop was Price Club, better known today as Costco.
Each Christmas, he'd buy one of those large, kid-sized bags of popcorn, a tin of butter cookies, and a huge box of Ferrero Rocher candy for the family. Obviously, I was not the health nut I am now!
These days, candies like these are more my speed…
Sugar-free, creamy deliciousness (to my palate), with the flavors from the carob and pecan butter shining through.
I never did care much for Ferrero Rocher chocolates, now that I'm thinking about it!
These, however, I adore.
No sugar crash, no guilt, but still the feeling of eating a rich, delicious treat.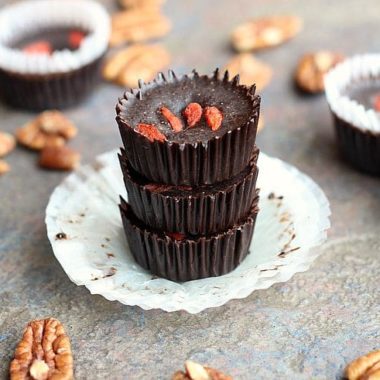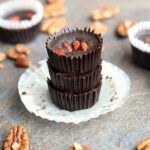 Print Recipe
Cinnamon Carob Pecan Candies (Sugar-Free)
Ingredients
1/3

c.

carob powder

5

T.

coconut oil

melted

1

T.

pecan butter

or whatever nut/seed butter you tolerate

1/4

t.

cinnamon

1

t.

vanilla

dash sea salt

dash powdered stevia extract
Instructions
Mix all until well combined.

Pour into molds (I use a mini cupcake pan).

Freeze or refrigerate until solid.

Enjoy!
Notes
Nutrition facts based on using 60 grams of carob powder, a rough estimate of 1/3 cup. WW points (new system): 3
Nutrition
Serving:
1
g
|
Calories:
114
kcal
|
Carbohydrates:
4.2
g
|
Protein:
0.7
g
|
Fat:
10.8
g
|
Saturated Fat:
8.6
g
|
Polyunsaturated Fat:
2.2
g
|
Sodium:
37
mg
|
Sugar:
2.6
g
Notes:
I use this recipe to make my pecan butter.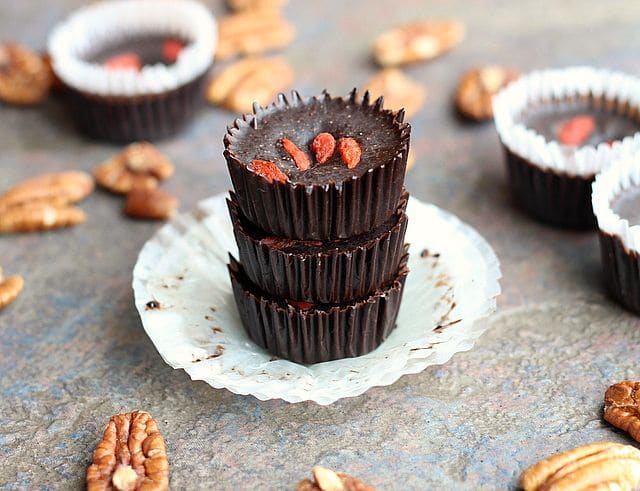 I like the pecan butter because the pecans add a natural sweetness, but if you're nut-free, I've used both hemp seed butter and pumpkin seed butter in these for my oldest daughter with great results!
What do you most enjoy this time of year?