This creamy pumpkin seed butter is a great, allergy-friendly way to enjoy a high protein spread on your toast or accompaniment to a plate of crisp apples - Naturally gluten-free and high in protein!

What is pumpkin seed butter?
With the abounding food allergies over here, I've had to search desperately for alternatives to some of the more commonly consumed nut and seed butters, such as almond and sunflower seed.
Pumpkin seeds are something that consistently agree with both myself and my daughter, so I incorporate them into many recipes.
Pumpkin seed butter is simply butterized pumpkin seeds. I like to toast mine a bit and bring out the flavor, but you can process them raw, as well.
What does pumpkin seed butter taste like?
Pumpkin seed butter tastes like, well, pumpkin seeds! It has an earthy taste that is more savory than sweet.
Sometimes, I add in a little sweetener to mellow out the taste, which can make it more appealing for kids as well. It all depends on how you're using it.
I also enjoy adding a few flavor enhancers, including vanilla and cinnamon. All of these additions can really contribute to the final butter, and make it much more palatable!
Is pumpkin seed butter good for you?
Heck yes!
Without rewriting what you could find on Dr. Google, I personally like that it is high in both protein and zinc. I've kept the latter in mind over the years when dealing with various skin issues, and it often tops vegans' list of highest protein foods.
It's very allergy-friendly, fitting in with many different diet types, including vegan, paleo, keto, and low fodmap.
How to use pumpkin seed butter
Here's the fun part, where I get to link you to some yummy recipes!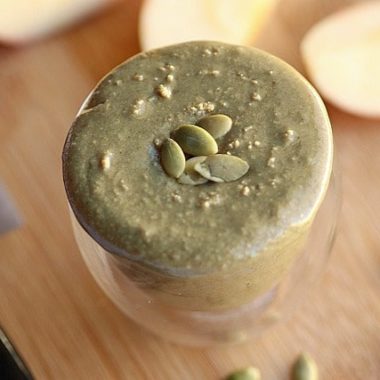 Print Recipe
Creamy Pumpkin Seed Butter
Creamy, homemade pumpkin seed butter is perfect for those with nut allergies!

Ingredients
2

c

raw pumpkin seeds

1-2

t

oil

as needed (I use one teaspoon of either grapeseed or olive)

¼

t

sea salt

OPTIONAL:

1

t

vanilla

¼

t

cinnamon

2

t

honey or maple syrup
Instructions
Preheat the oven to 350 degrees.

Spread the seeds out on a baking sheet.

Bake them for 7-10 minutes, until lightly golden.

Cool the seeds for about five minutes.

Add the seeds to a food processor.

Let the processor run for about 4-5 minutes, until the seeds begin to butterize.

Stop and scrape the sides down.

Continue running for another 2-5 minutes until the seeds appear completely butterized (see below pictures), adding a bit of oil at this point, as needed.

Pulse in additions (salt, spices, sweetener), if desired. DON'T process these in, as they can cause seizing of the butter.

Store in an airtight container for best keeping.
Notes
Nutrition facts based on seeds, two teaspoons of grapeseed oil and salt; nothing optional. I figure the recipe makes about one cup, so a serving size (1/16 of the recipe) is around one tablespoon of the final butter. WW SmartPoints: 3
Nutrition
Calories:
98
kcal
|
Carbohydrates:
3.1
g
|
Protein:
4.2
g
|
Fat:
8.5
g
Notes:
I'm a fan of using these raw pumpkin seeds for this recipe.
I use an older version of this food processor for my nut and seed butters, and it works great! I've had it for about ten years and used it consistently.
I like to eat a spoonful of this with a cut-up apple or use it in recipes that call for any type of nut of seed butter.
This is a great way to economize as well. The raw pumpkin seed butter I was previously buying was around $12 for eight ounces, while my cost to make this is roughly less than half that, and I consider my version tastier on top of it!