Following the rare times that I post a picture on my personal Facebook page, I often can't watch to see who 'likes' it.
Geez, that sounds lame.
I actually only created a 'Lauren Goslin' Facebook page because I had to. Facebook doesn't allow you to only have a blog page for whatever reason, so there you go.
I'm truly not a big fan of this social media, personally speaking, and I'm only friends with a minimum number of people, 99% of which are family or close friends.
I don't post there but maybe 3-4 times a year, and when I do, it actually gives me a bit of anxiety.
No one cares about this. This is lame. You should just erase it.
These are the thoughts that run through my head, but I usually press on with whatever it might be, because if I have an urge to put something up, I consider it pretty special.
Recently, for example, I posted a picture of Sammy after he had maneuvered himself to a standing position.
This kid is barely seven months, but man, is he ever ready to move!…and by 'move', I mean pull himself up onto anything and everything!
Similarly to Facebook, I often have some trepidation before a blog post.
Will anyone like this?, I mostly wonder.
Pumpkin seed butter, I know, is not at the top of most people's list of 'loved' foods. I can't say I blame you, as I only eat it because it's one of the few nut or seed butters that my oldest daughter and I tolerate.
It has grown on me, however, and I know it boasts a decent amount of zinc for purposes of immune system and skin, which is nice.
I enjoy adding a few flavor enhancers, including vanilla and cinnamon, and (when it's not Detox-mas time), a bit of honey. These all really contribute to the final butter, and make it much more palatable!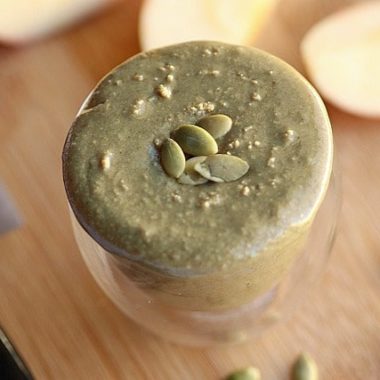 Creamy Pumpkin Seed Butter
Creamy, homemade pumpkin seed butter is perfect for those with nut allergies!

Ingredients
2

c

. raw pumpkin seeds

1-2

t

. oil

, as needed (I use one teaspoon of either grapeseed or olive)

1/4

t

. sea salt

OPTIONAL:

1

t

. vanilla

1/4

t

. cinnamon

2

t

. honey or maple syrup
Instructions
Preheat the oven to 350 degrees.

Spread the seeds out on a baking sheet.

Bake them for 10-12 minutes, until lightly golden.

Cool the seeds for 15-20 minutes.

Add the seeds to a food processor.

Let the processor run for about 4-5 minutes, until the seeds begin to butterize.

Stop and scrape the sides down.

Continue running for another 2-5 minutes until the seeds appear completely butterized (see below pictures), adding a bit of oil at this point, as needed.

Pulse in additions (salt, spices, sweetener), if desired. DON'T process these in, as they can cause seizing of the butter.
Recipe Notes
Fat: 8.5 g  Carbs: 3.1 g  Sugar: 0 g  Protein: 4.2 g; Nutrition facts based on seeds, two teaspoons of grapeseed oil, and salt. I figure the recipe makes about one cup, so a serving size (1/16 of the recipe) is around one tablespoon of the final butter. WW SmartPoints: 3
Nutrition Facts
Creamy Pumpkin Seed Butter
Amount Per Serving
Calories 98
* Percent Daily Values are based on a 2000 calorie diet.
I like to eat a spoonful of this with a cut-up apple or in recipes that call for any type of nut of seed butter, namely this one.
This is a great way to economize as well. The raw pumpkin seed butter I was previously buying was around $12 for eight ounces, while my cost to make this is roughly less than half that, and I consider my version tastier on top of it!
Which form of social media do you like least?
Shared with: Healthy Vegan Friday