While I enjoy bananas, they are not a food I can eat with any regularity.
Over the years, however, my sad allergy has yielded more than a couple of scrumptious smoothie and shake options.
This post is the compilation of my family's tried and true favorites!
Though this one is in desperate need of new pictures, it should still be one you try! Add in some peanut butter for the 'nut butter' ingredient for a chocolate peanut butter fix.
Apple, pear, avocado, and dates all combine to make this creamy smoothie. One of my personal (non-chocolate) faves!
3. Healthy Strawberry Milkshake
If you're a strawberry fan, this healthy shake will make you swoon (and it's a hit with kids)!
4. Scoop-able Strawberry Avocado Shake
In case you hadn't yet noticed, avocado is sort of my go-to ingredient for smoothies. It adds richness and thickness, and blends well with just about any other flavor. This recipe uses an entire avo, which lends to the incredible thick consistency that requires a spoon to eat!
5. Healthy Orange Julius Smoothie
A refreshing, citrus-y, and slushy drink that will remind you of your teenage trips to the local mall!
A Fall-inspired drink, this literally tastes like pumpkin pie in a glass! Another morning favorite for my daughters.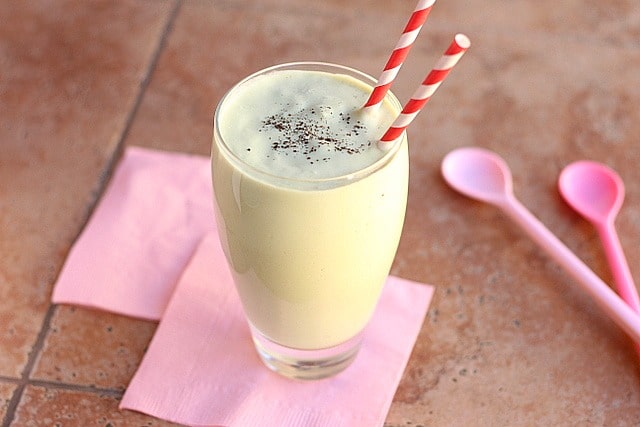 My girls favorite morning shake, this treat is high in good fats, and the creamy, sweet flavor is addictive!
8. Secret Ingredient Chocolate Shake
I'll save you the click, and tell you that the 'secret ingredient' is pumpkin! It adds a richness and thickness, but is not overpowering enough to actually detect. You just taste delicious and creamy chocolate goodness.
If you like eating tahini, you'll love drinking it! This easy treat provides a hefty dose of calcium and quells the sweet tooth.
10. My Favorite Chocolate Smoothie Bowl
This is last on the list and titled 'my favorite' for good reason. I make it almost every other day for myself!
Have a great weekend! Let me know if you try these or any other recipe of mine by leaving a comment here, or tagging me on Instagram (@laurengoslin) or Facebook.