Banana-Free Smoothies and Shakes - NO bananas to be seen in this list of delicious and healthy banana-free smoothies and shakes!
While I enjoy bananas, they are not a food I can eat with any regularity.
Over the years, however, my sad allergy has yielded more than a couple of scrumptious smoothie and shake options.
This post is the compilation of my family's tried and true favorites!
This is a fantastic healthy chocolate shake that is sweetened with dates! Add in some peanut butter for a delicious chocolate peanut butter fix.
Apple, pear, avocado, and dates all combine to make this creamy smoothie. One of my personal (non-chocolate) faves!
If you're a strawberry fan, this healthy shake will make you swoon (and it's a hit with kids)!
In case you hadn't yet noticed, avocado is sort of my go-to ingredient for smoothies. It adds richness and thickness and blends well with just about any flavor. This recipe uses an entire avo, which lends to the incredible thick consistency that requires a spoon to eat!
A refreshing, citrus-y, and slushy drink that will remind you of your teenage trips to the local mall!
A Fall-inspired drink, this literally tastes like pumpkin pie in a glass!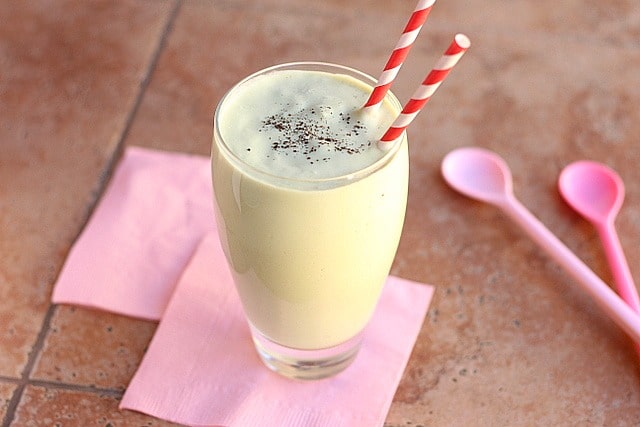 My kids' favorite morning shake, this treat is high in good fats, and the creamy, sweet flavor is addictive!
I'll save you the click, and tell you that the 'secret ingredient' is pumpkin! It adds a richness and thickness, but is not overpowering enough to actually detect. You just taste delicious and creamy chocolate goodness.
If you like eating tahini, you'll love drinking it! This easy treat provides a hefty dose of calcium and quells the sweet tooth nicely.
This was created by Jadie, as she is a Sunbutter fiend! She has even had this as a mid-day treat!
This one is packed FULL of good fats and is another Jadie favorite. Chocolate and cherries pair perfectly together, and it makes for an energizing way to start the day, thanks to the chia seeds.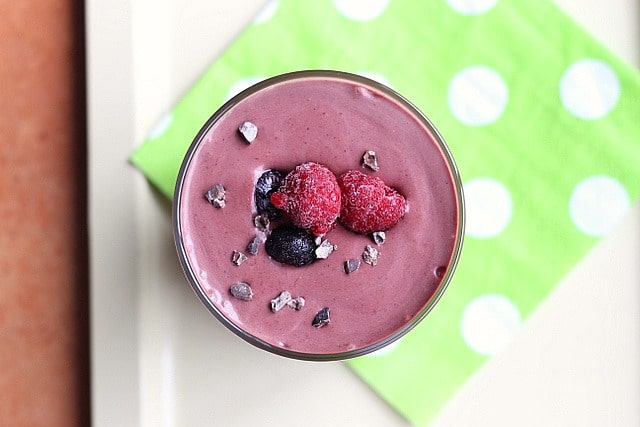 If you've never tried berries and chocolate together, you're missing out! The two create a slightly tart, yet interesting flavor that is, in this case, enhanced with a touch of honey.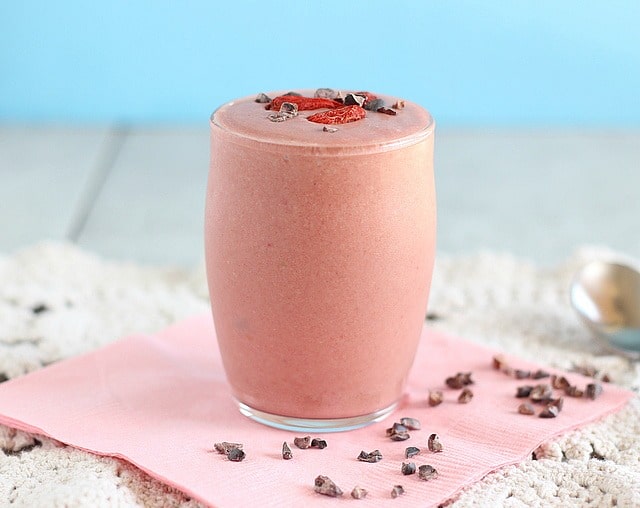 If you have a chocolate sensitivity, you may enjoy this creamy shake made with carob powder. Carob is naturally sweet, unlike cocoa powder, and the flavor pairs wonderfully well with berries. This is my favorite carob powder.
Can you tell yet that I love berries in my smoothies? This one combines berries with a bit of avocado and a punch of vanilla using this vanilla powder. It's one of my favorite morning blends.
I love eating this with a spoon and a handful of goji berries. Of all the berries, I think raspberry is chocolate's best match!
I hope you find a banana-free smoothie on the list that you LOVE!