This Healthy Chocolate Frosty is packed full of natural protein, and it's a rich, delicious treat that tastes like a chocolate milkshake.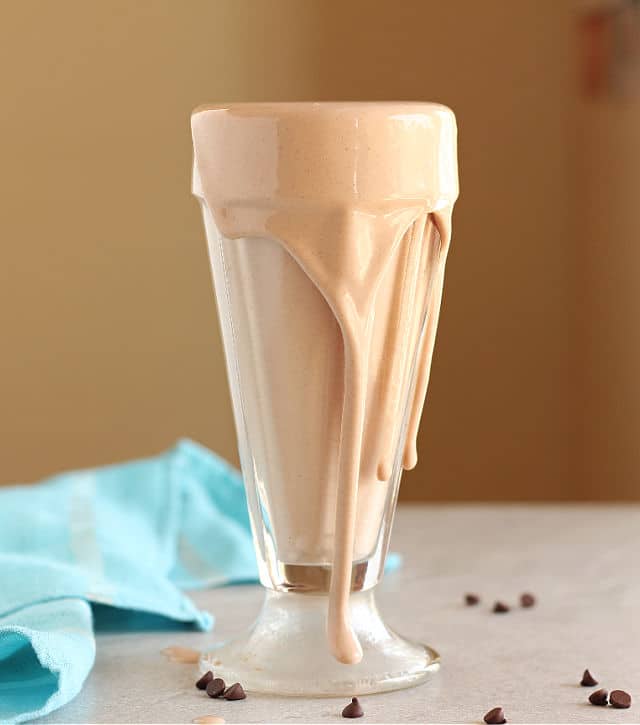 Who among us hears the word 'frosty' and doesn't immediately begin to salivate, a la Pavlov's dog?
I think I was in my late teens before I actually tried a frosty, and by that time, I was concerned about weight and skin, so it wasn't nearly as exhilarating an experience as it could have been.
Years ago, I created today's recipe based on something I saw on Youtube.
I changed it up, and now it is the delicious, protein-packed confection that everyone in my family gives a thumbs up to!
Protein frosty without powder
This delicious, high protein frosty is made WITHOUT any protein powder.
It relies on the natural protein from the cottage cheese and/or yogurt, as well as the nut/seed butter.
I often find that protein powders give me side effects, like gastrointestinal issues and foggy thinking, so I generally avoid them.
Over the last year, my health declined a bit, and I lost some weight in the process. This left me at a low nutrition point, so I have tried a couple of various powders with decent results.
I don't eat them daily, however, and wouldn't rely on them as a primary protein source.
Do frosties have dairy?
You can find the ingredients for a Wendy's frosty here, and they do include dairy.
There are many differing opinions on what's 'healthy'.
Many folks don't think dairy is healthy.
I think it depends on the person, as well as the source of the dairy.
Personally, I tolerate yogurt, cheese, and heavy cream fairly well, but actual milk gives me trouble.
I did stumble across a local milk from Natural Grocers recently that I tolerate better than any I've tried!
After realizing how processed milk is these days, it seems logical to avoid it.
But real full-fat, unprocessed milk from pasture-fed cows contains many nutrients, including fat-soluble vitamins A and D, calcium, vitamin B6, B12, and CLA (conjugated linoleic acid, a naturally occurring fatty acid that reduces body fat).
Milk is also a source of complete protein and is loaded with enzymes, as well as beneficial bacteria for our gut, particularly when it's cultured, as in yogurt.
This frosty recipe relies on Greek yogurt and/or cottage cheese for both protein and consistency.
How to make a healthy frosty
In light of all that dairy talk, and assuming you're still with me, let's chat about making a frosty healthy!
As I wrote above, this frosty depends on the cottage cheese/yogurt, as this is what makes it thick and luscious!
Add to that some cocoa powder, maple syrup, a dollop of nut or seed butter (whichever you like/tolerate), and a good splash of milk, and you've got yourself a delicious chocolate frosty shake!
Please enjoy the video below the recipe showing you just how to make it!
If you are dairy-free, try some of these other chocolate shakes!
Print Recipe
Healthy Chocolate Frosty (with Video)
A chocolate shake full of natural protein, AND it tastes like a milkshake!

Ingredients
1

cup

cottage cheese and/or Greek yogurt

see Notes

1

Tablespoon

cocoa powder

1

Tablespoon

nut or seed butter

UNsalted is best; see Notes

1

Tablespoon

maple syrup

½

teaspoon

vanilla

8-10

drops

liquid stevia

¼

cup

milk of your choice
Instructions
Blend everything until very smooth.

Freeze for 30-60 minutes, until slush-like in consistency.
Notes
Nutrition facts based on using low-fat cottage cheese, peanut butter, and unsweetened almond milk.
WW Points: 6
Nutrition
Sugar:
7.3
g
|
Fiber:
1.4
g
|
Calories:
189
kcal
|
Fat:
7
g
|
Protein:
18.2
g
|
Carbohydrates:
14.3
g
Notes:
You can use one cup of cottage cheese OR one cup of Greek yogurt OR half of each.
If you use all cottage cheese, the taste is reminiscent of a chocolate cheesecake treat, which is heavenly (and addictive).
Yogurt is great in here as well. My favorite is to blend half Greek yogurt with half cottage cheese, but you can use entirely yogurt, if desired.
Because of the salt content in cottage cheese, UNSALTED nut or seed butter is best. Otherwise, the end product can be a bit on the salty side.