These simple oatmeal protein pancakes for one are high in natural protein (almost 12 grams!) and easily customized to fit different tastes.
I'm a bit embarrassed to tell you that although Sam just turned three, he still isn't fully weaned nor fully potty-trained.
He's been really resistant to the toilet, despite our efforts at buying a specific lid and offering him a prize if he uses it. I'm not certain what's scaring him, but I'm hoping to see him turn a corner before the year is over.
He also loves his breast milk! While he's made significant strides in that area, when he's upset or not feeling well, he stubbornly resorts back to only wanting mommy's 'milky'.
It's been a bit tiring to find meals that he likes to eat on a consistent basis. One day, he loves a food, and the next, he wants nothing to do with it!
His favorites are things like chips and cracker and, of course, anything sweet. He loves raisins and chocolate chips, cookies and candy. Living in our home, however, we limit all of these things, which can create a baby 'breakdown' of sorts. That kid's nothing if not persistent!
My little diablo!
I began making this recipe a couple of years back as a weaning food for Sammy.
They're simple, sugar-free, and fairly high in natural protein making them a pretty good snack or breakfast. Personally, I can eat pancakes any time of the day, so these have been known to become my pre-gym snack. I make this recipe, top them with my Gooey Apples and Peanut Butter Frosting…yumsies!
My husband and Natalie are also fans, particularly when they're paired with butter and maple syrup.
I like that these are based on natural protein, as opposed to added protein powder, which I'm not a fan of. To me, the jarred protein powders are like eating 'fake' food in a way, and they never agree with my belly (frip!). I also find that the high glutamine content of isolated protein gives me headaches and emotional issues (you can read more about that in Dr. Blaylock's book, Excitotoxins).
Some variations we like to add include cinnamon, vanilla, and/or blueberries.
These are not meant to be super fluffy, but they are soft and moist, and I really enjoy them!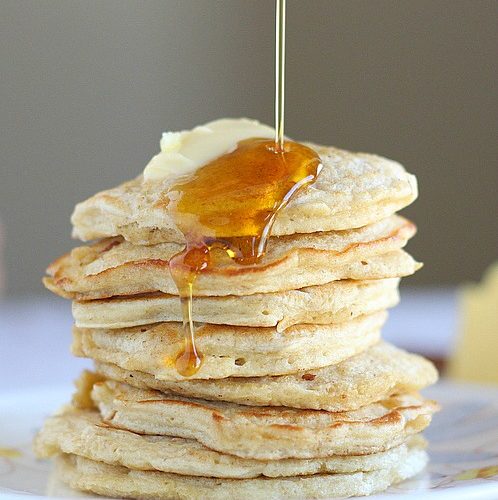 Print Recipe
Oatmeal Protein Pancakes for One
These oatmeal protein pancakes are a healthy breakfast or snack, and they're high in natural protein!

Ingredients
1/4

cup

oat flour

1/4

cup

rolled or quick oats

1/2

tsp

baking powder

dash

sea salt

1

large

egg

2-3

Tbsp

milk of your choice
Instructions
Mix everything together until well combined.


Let the batter sit for a few minutes while you heat a non-stick skillet.


Add a little butter or coconut oil to the skillet and let it melt and start to bubble.


Add the batter into the pan, giving each pancake room to cook evenly.


Let cook until the perimeter begins to set and you see a few bubbles form on the surface.


Flip and cook the other side.


Repeat with all batter (I use a tablespoon measure for mine and get about 8-9 small pancakes).


Top as desired and enjoy!

Notes
Nutrition facts based on using two tablespoons of 2% milk.
WW Points: 8
Nutrition
Sugar:
2
g
|
Fiber:
4.4
g
|
Calories:
257
kcal
|
Fat:
8.4
g
|
Protein:
13
g
|
Carbohydrates:
32.7
g
Notes:
FYI: The protein if using skim milk is 13.2 grams.
For the oat flour, I grind rolled oats in my Nutribullet using the flat blade.
Some of the items I use in this recipe include:
Recipe Steps:
Mix the dry ingredients…
Add in the egg…
…and the milk…
Stir…
Oil your skillet…
Dollop it out!
Cook…
Flip!
Real time shot…